Cocoon in the box , by Robert Schwermer, won the Green Tent Competition which asked entrants to design an environmentally sustainable camping shelter for use in the Mojave Desert (Joshua Tree National Park.)
The cocoon makes use of the abandoned homesteader cabins of the Mojave Desert. These constructions would remain the main area to live in, while the coccon, a combination of a sleeping bag, hammock and tent, is for sleeping.
As it is lifted above the ground, it would be out of reach of scorpions. It can also be used as a chair.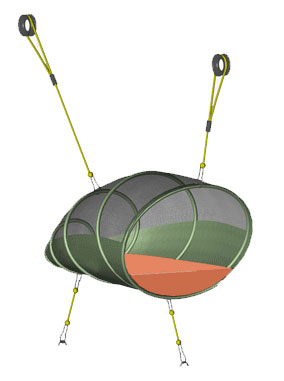 Winning entries are being prototyped for use at Ecoshack's green design lab in Joshua Tree, California.
Winners and all other entries will be exhibited at gardenLAb in Pasadena, CA from September 8 to October 16, 2004.
Via Archinect.