Guy Tillim is one of the incredibly talented photographers who put South Africa on the contemporary art world map.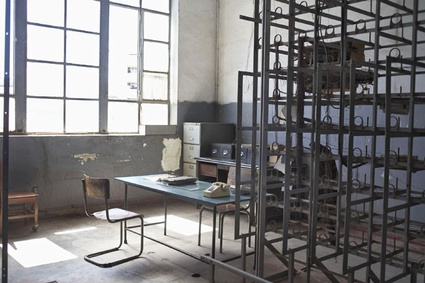 Guy Tillim, Old landline exchange, Post Office, Lubumbashi, DR Congo, 2007 (Courtesy Michael Stevenson)
A few months before the 50th anniversary of Congolese independence from Belgium, Extra City –an Antwerp-based platform for the production, presentation and debate of artistic practices– is showing one of Tillim's recent series: Avenue Patrice Lumumba. The work examines modern history in Africa against the backdrop of its colonial and post-colonial architectural heritage.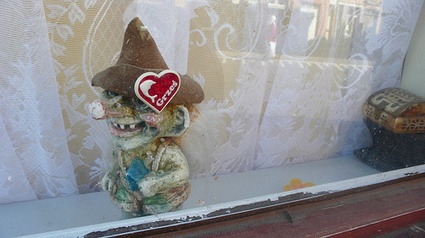 On my way to Extra City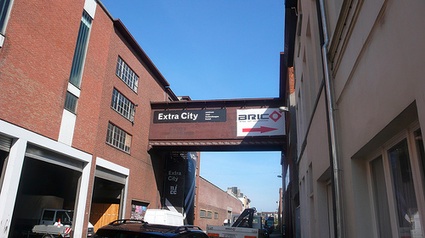 The exhibition space is up there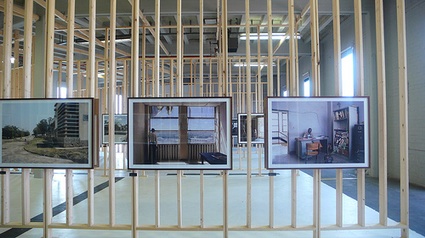 Quite liked this airy way to exhibit the photos
The series reflects on the architecture of colonial and post-colonial Africa, looking at the many city streets named after Patrice Lumumba, one of the first elected African leaders of modern times. Lumumba became the first Prime Minister of the Democratic Republic of the Congo in 1960 after he helped his country win independence from Belgium.
Only ten weeks after his speech at the independence celebrations in Léopoldville in which he militated against the West's idea of neo-colonial order in the presence of the Belgian King Baudouin, Lumumba's government was deposed in a coup. He was imprisoned, beaten and murdered in circumstances that strongly suggest the complicity of Belgium and the CIA. The country quickly fell into the totalitarian regime of charismatic and greedy Mobutu.
Streets that bear the name of Lumumba in Mozambique, Angola and The Democratic Republic of Congo have come to represent both the idealism and decay of an African dream.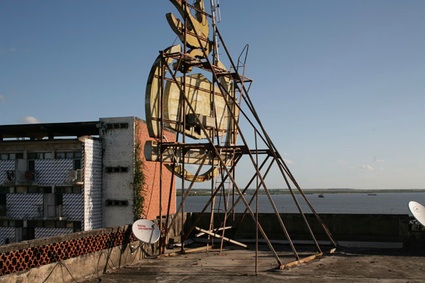 Guy Tillim, Quelimane, Mozambique, 2008 (Courtesy Michael Stevenson)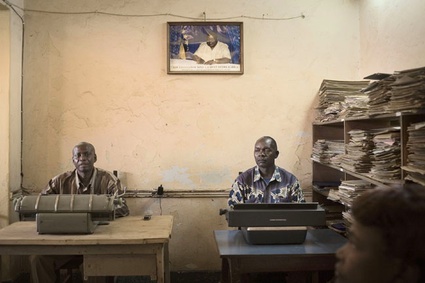 Guy Tillim, Typing pool, Town Hall, Likasi, DR Congo, 2007 (Courtesy Michael Stevenson)
"These photographs are not collapsed histories of post-colonial African states or a meditation on aspects of late-modernist colonial structures, but a walk through avenues of dreams. Patrice Lumumba's dream, his nationalism, is discernible in the structures, if one reads certain clues, as is the death of his dream, in these de facto monuments. How strange that modernism, which eschewed monument and past for nature and future, should carry such memory so well." Guy Tillim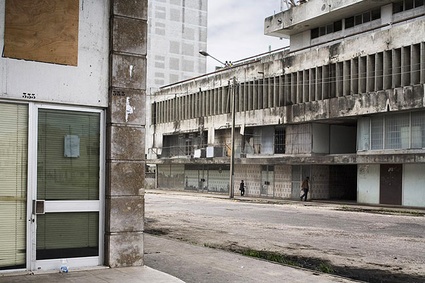 Guy Tillim, Avenue Bagamoyo, Beira, Mozambique, 2008 (Courtesy Michael Stevenson)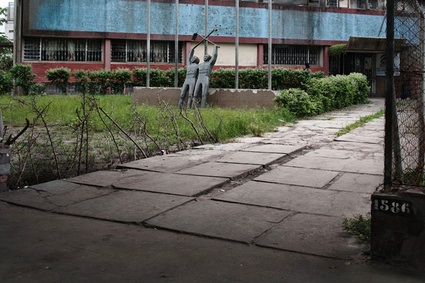 Guy Tillim, General Workers Union offices, Beira, Mozambique, 2008 (Courtesy Michael Stevenson)
It was a fascinating exhibition for me. My school teachers in Belgium were not big on telling us what exactly happened in Congo, except that we got tremendously rich thanks to the rubber, diamonds, copper and other minerals of our ex-colony. My eyes opened when i went to study in England and my class mates were happy to provide me with gruesome details of the atrocities done the Belgian over there. Check out Mobutu King of Zaire too (i downloaded an english version of the documentary recently but it was so badly translated i'd recommend the original version in french.)
More images.
Guy Tillim: Avenue Patrice Lumumba, a collaboration between ExtraCity and the Flemish-Dutch House deBuren, is open until October 25, 2009 at Extra City in Antwerp, Belgium.