Gametrak is a game controller in the form of a pair of fingerless gloves to strap on your arms. It captures your movements forwards and backwards as well as up, down, left and right. You can punch opponents with your hands, pick up and play using real golf clubs or tennis racquets or bounce virtual basketballs.
Via Pasta & Vinegar.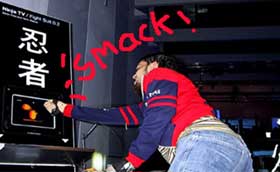 Another game controller was developed last year by Soren Pors. The Fight Suit monitors the players' movements and adds audio and visual effects to physical kicks and punches, creating an illusion of real immersive combat.
Based upon accelerometers and movement tracking technologies, the system consists of two gloves that detect the players arm movements, the speed and power of each punch but also advance punching combination.
Couldn't find much information for this one: in the interactive video installation DE L'EFFORT, by French artist Donald Abad, the player, covered with sensors, can play against the "videotaped" boxer he can see through his glasses.
Related: Fighting TV, EyeToy gets physical, sensitive punchbag.