The US Future Force Warrior Program is developing new equipment for soldiers. Not expected to be in full use until 2010, you can nevertheless get a preview of the future of fighting in Ubisoft's Ghost Recon 2.
While the Army is in no way endorsing GR 2, players will be able to "try on" the future equipment and drink out a new-fangled, "on-the-move" hydration system.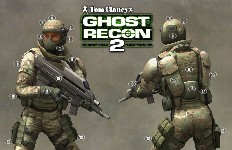 While it will be exceptionaly light, the future body armor will stand up to seven direct hits from a machine gun, and double as a holster for ammunition and grenades. It will also protects a computer connected via "e-textiles" — durable cloth, with wires woven in. The helmet will integrate night vision into a built-in tiny monocle, and bone-conduction microphones will replace radio headsets.
The metal sensors will be replaced with a gel-based sensor that's sensitive enough to transmit pulse and breathing rates back to base.
Via DefenseTech x-box.
Detail of the future soldiers gear in Wired.