Anyone who ever asked me what to do in Paris has heard me rave endlessly about the Palais de Tokyo. That place makes other contemporary art museums and galleries look 'ringard', outdated and out of touch. The Palais is open from noon to midnight. An entrance won't entitled you to a 2 euros discount on a hefty glossy catalog. No, Sir, when you buy your ticket you are handed out a magazine with all the info you need to visit the exhibition and go further in the discovery once you're back home.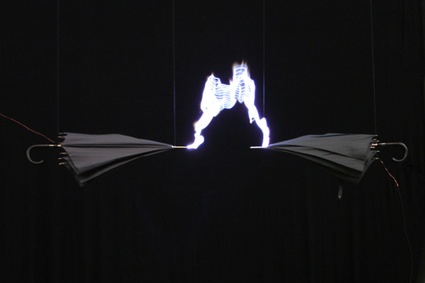 Roman Signer, Parapluie, 2007. Courtesy: Art Concept, Paris
The ongoing exhibition, GAKONA, is set under the aegis of Nikola Tesla and its name refers to a village in Alaska. Little more than 200 inhabitants live in Gakona. There's a service station, a small school, a post office, a couple of diners and a scientific research base: the High-frequency Active Auroral Research Program.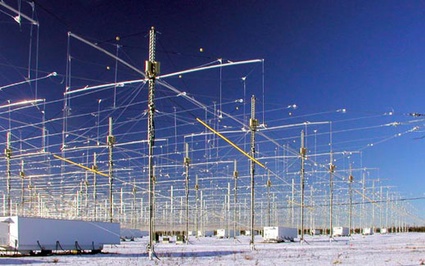 (image)
The researchers at the HAARP are studying the transmission of electricity in the uppermost portion of the atmosphere. But because of its military funding and the fears associated with electromagnetism, HAARP is surrounded by a cloud of controversy. Its forest of antennas has been accused of beaming electromagnetic waves that are extremely hazardous to human health, of disrupting climate, of having all sorts of influence on human behaviour and of being weapons able to disrupt communications over large portions of the planet.
Made up of 4 solo exhibition (but only 6 artworks) by Micol Assaël, Ceal Floyer, Laurent Grasso and Roman Signer, GAKONA oscillates between fact and rumors, science and imagination.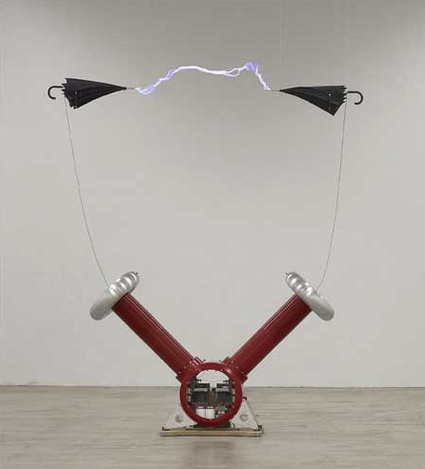 Roman Signer, Parapluies, 2009. Photographie: André Morin
The icon of the show is Parapluies (umbrellas) by Roman Signer. Two Tesla coils charge up, approx. 5 minutes later an alarm sounds and a blast of electricity spectacularly lights up between the extremities of the umbrellas. I'm not going to delve on this one, have a look at this video or this one instead.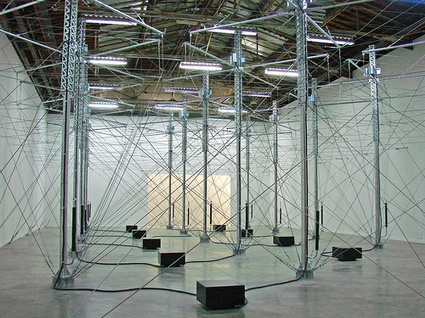 Laurent Grasso, Haarp. Image by dalbera
Now Haarp, by Laurent Grasso, is a sculpture clearly inspired by the aforementioned program, not only does it look like its model but its potential effects are invisible as well: are there waves passing through the antennas? Are they harmful? Should we be worried? How real is this?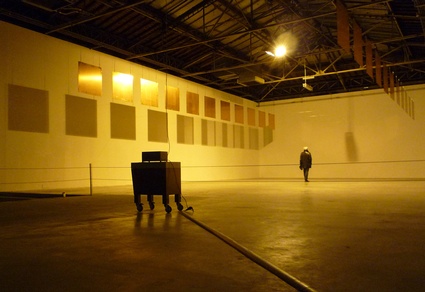 Chizhevsky Lessons, by Micol Assaël, is a gigantic generator of static electricity. The name of the artwork refers to Alexander Chizhevsky, a scientist who explored the correlation between solar activity and historical events such as wars and revolutions.
Right before being allowed to approach the installation, you are warned that people wearing pacemakers or hearing aid and pregnant women should not go any further, advised that you should "avoid touching other visitors' faces, especially the eyes" and promised that the work would "load the body with static electricity." Thank you very much!
What visitors experience is the unpleasantness of static electricity re-created artificially with a cascade generator, a transformer, copper plates, and wires that fill the space with negatively charged ions. The discharge only occurs when touching an object or person oppositely charged. Although the installation is not dangerous it definitely invites visitors to step out of their safety zone and explore uncontrollable physical, emotional and psychological experiences.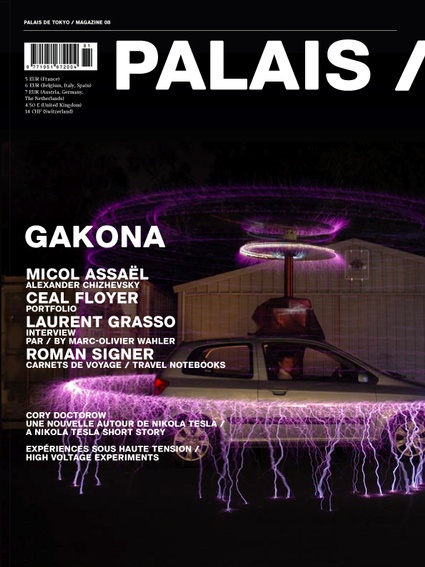 GAKONA is on view until May 3 at the Palais de Tokyo in Paris.
Photos of the exhibition. Image on homepage: Micol Assaël Chizhevsky Lessons 2007 Courtesy Galleria Zero, Milan Photo André Morin (via Canadian Art.)