While in London I went to the Tele-design exbition, at the Architectural Association School of Architecture. I really had a crush on their Body-Space Enviromental Design projects:
Kentaro Yamamoto envisioned Andre , a brilliant piece of furniture for public places.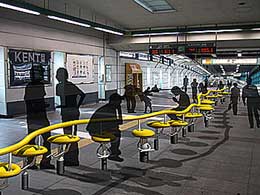 The system uses an oil pressure method, each stool consists of an oil dumper of different diameter that are connected to each other. According to the number of people and their weight, the stool slowly goes up or down, referring to the theory of Pascal. This gives a new consciousness for people who usually don't notice their neighbours in an urban public space. Movie.
The Armadillo Bench, designed by Noriyuki Tajima, allows people to stand, sit down, or relax. It reveals and visualizes bodily action, movement and its relationship to bench and space, using plastic flexibility of urethane form and hinging steel frame system.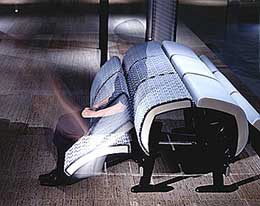 The exhibition runs till March 17.