Flickerminick is a jittery fabric jellyfish that contains fans to inflate and deflate the body, tentacles which twitch with stepper motors, LEDs that modulate the creature's colour from bright white to soft purple with each breath, electroluminescent wire and IR transceiver to ensure that you get stung if you get too close.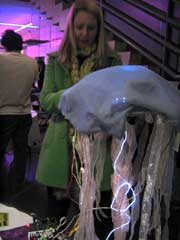 Lots of cool videos.
Author: Christine Liu.
Flickerminick is at the Crawlspace Gallery in Cambridge, MA, on April 12 – April 18.
Thanks Nick!