Sony Computer Entertainment Europe 's EyeToy: Kinetic, designed with the NIKE MOTIONWORKS team of fitness training experts, wants develop our reactions, posture, balance and breathing, as well as improve our all-round body toning and conditioning.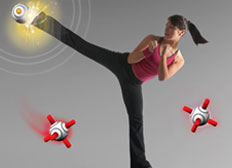 Meanwhile, a new wide-angled lens fits over the EyeToy to allow for the greater degree of movement required from you.
Various options: Aero Motion and Combat Zones are inspired by moves and stances from Tai Kwon Do, modern dance, kickboxing, aerobics and karate. While the Mind and Body Zone draws on yoga and Tai Chi.
EyeToy: Kinetic is due to arrive early next year in Europe.
Via Playstation UK.