The joy of Belgium! You hop on a train next to your parents' house and hey presto you're in Aachen. All it takes is a few Euro coins and 30 minutes. I was there last week to see a couple of exhibitions at Ludwig Forum for International Art.
Here's a short post about one of them, Eros und Stasi, East-German Photography from the collection of Gabriele Koenig in Aachen. A photo exhibition that promises you a bit of flesh and thrills from GDR's Ministry for State Security, what's not to be curious about?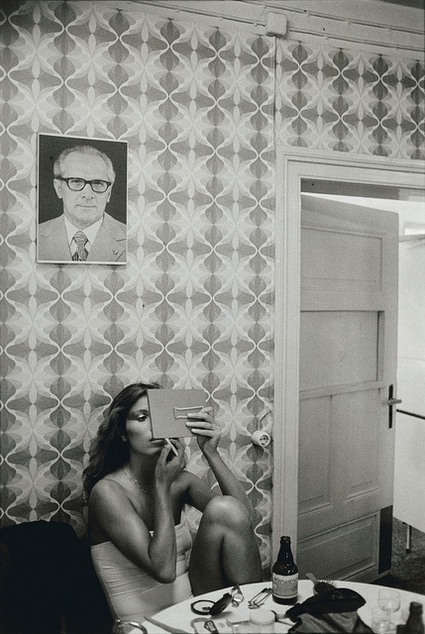 Ute Mahler. Mecklenburg,1984. Eros und Stasi, East-German Photography from the collection of Gabriele Koenig, Aachen
The exhibition presents around 100 works by photographers as Sibylle Bergemann, Evelyn Richter, Ulrich Wüst, Ute Mahler, Will McBride, Helga Paris and Roger Melis. In black and white, they have documented everyday situations that reflect the more recent history of East-Germany beyond high politics – snapshots that show the professional and private everyday life, political activities, urban landscapes, interiors and nudes.
The street photography of the 1970s and 80s that gives an authentic and unadorned impression of life in East-Germany is central. Urban views by Ursula Arnold and Arno Fischer show the situation of the 1950s.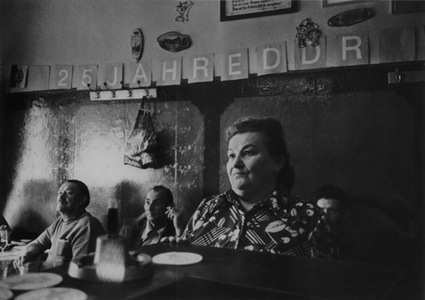 Helga Paris, from the series Berlin Pubs, 1974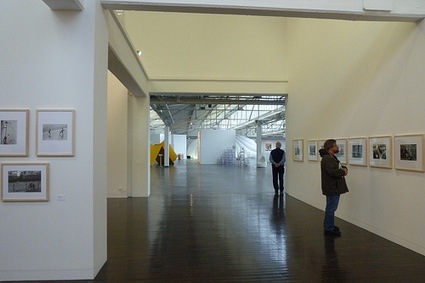 View of the exhibition space
During the communist years, East Germany official photography was a visual instrument for propaganda. Artists, however, used images to deliver a subversive message that could be read between the lines and subtly defy censorship.I wish i could post here the most striking images i saw in Aachen but most of them outsmarted my talent to scan google.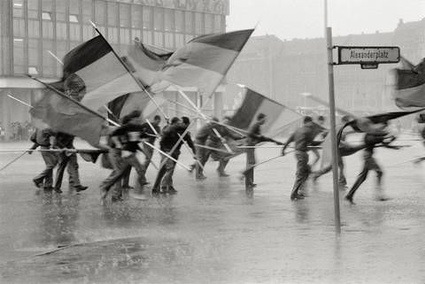 Harald Hauswald, Alexanderplatz, May 1 Demonstration, Berlin, 1987
Harald Hauswald photographed life in the DDR. In 1987, he published a book of his photos titled "Ost-Berlin" (East Berlin) in West Germany. Stasi officials were so displeased with the work that they refuted the veracity of every image and branded Hauswald an Enemy of the State. He later republished the book with the Stasi's commentary next to each image.
The image below was not part of the exhibition but i couldn't resist adding it to my post.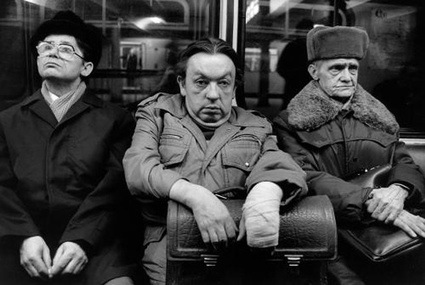 Harald Hauswald, Alexanderplatz (U-Bahn Linie A), 1987
Although she grew up and worked for many years in the GDR, Sibylle Bergemann "worked without paying attention to state restraints and did not care about the censors at all."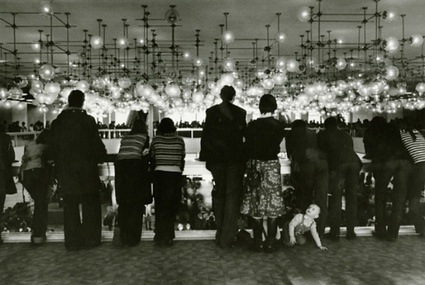 Sibylle Bergemann, Berlin, Palast der Republik, 1978
Bergemann's husband, Arno Fischer, photographed East and West Berlin from 1953 until the building of the Wall. The images expressed his scepticism towards the conditions in the Four Sector City. A publication of his photographs in a book was announced but the GDR cultural bureaucracy annulled it when the construction of the Berlin Wall started.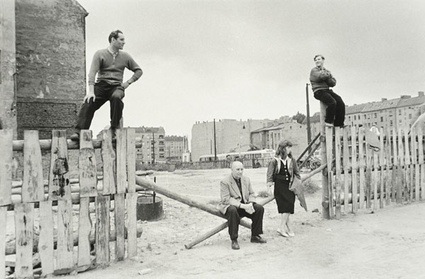 Arno Fischer, Ost-Berlin, Friedrichshsain 1957
A Tatra car, beloved vehicle of the communist elite, on an empty Strausberger Platz, just off Karl-Marx-Allee in East Berlin.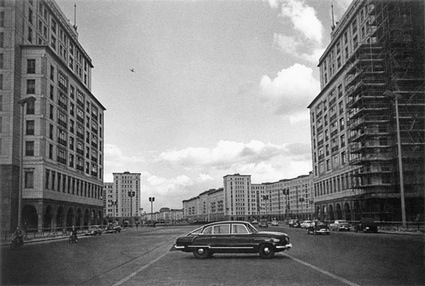 Arno Fischer, Strausberger Platz, 1959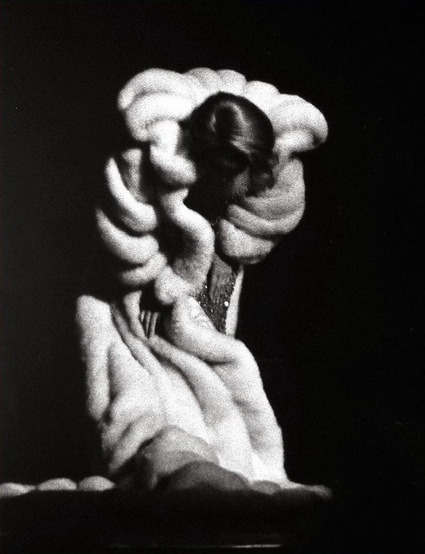 Arno Fischer, Marlene Dietrich in Moscow, 1964
Ute Mahler earned her living as a fashion photographer. Even fashion magazines couldn't escape censorship. An editor refused to run a shoot showing a model encaged by wire mesh on a construction site. When Mahler queried his decision, he told her simply, 'You know why. And I know why.' In her personal work Mahler portrayed moments of ordinary life, of 'living together', aware that the images might never be published.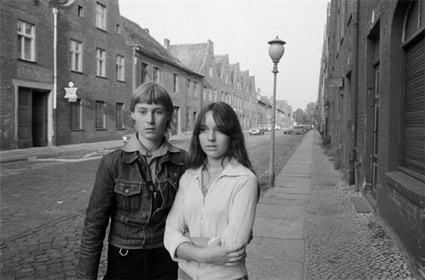 Ute Mahler, Untitled' from the series 'Living Together', 1973
As you can see Eros und Stasi is a feast of black and white photography. Only ten large-scale works by Daniel and Geo Fuchs add a touch of typically East German colours. Taken from the series "STASI – secret rooms", the images document the abandoned sites of the State Security Service.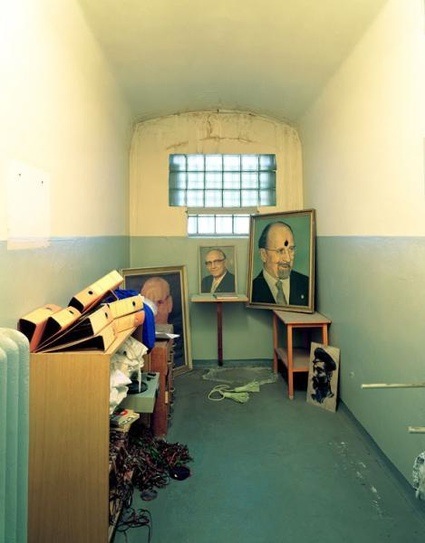 Daniel & Geo Fuchs, STASI – Secret Rooms, 2004
While much of the former GDR infrastructure has been destroyed, or repurposed, the offices, cell complexes, bunkers, living quarters and interrogation rooms that Daniel and Geo Fuchs photographed are still in their original condition.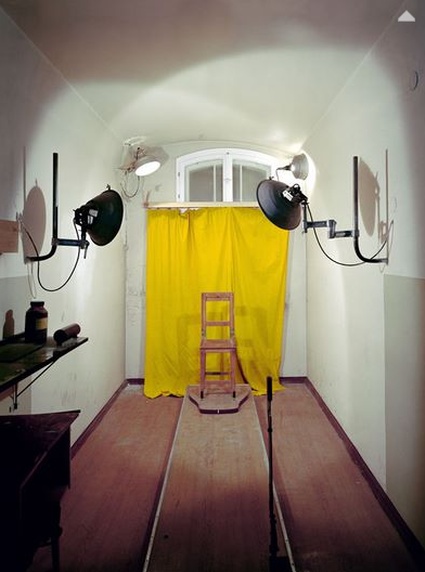 Daniel & Geo Fuchs, Untersuchungsgefängnis Potsdam, from the series STASI – Secret Rooms, 2004
Eros und Stasi is open until the 21st, November, 2010 at the Ludwig Forum in Aachen (DE.)
Related stories: Art of Two Germanys, Cold War Cultures and East Side Stories. German Photography 1950s-1980s.