Packing my baby blue (going alarmingly dirty grey) suitcase again. Not sure how much i'll be able to update the blog over the coming week so here's a quick one for the road.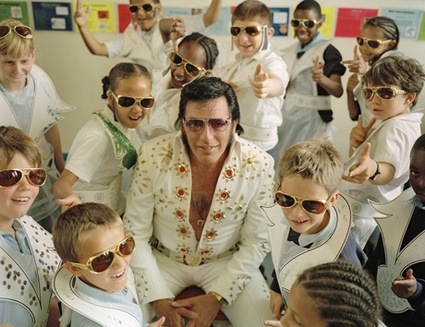 Elvis Was Here, 2008, Photograph by Thierry Bal
In June 2008, Onkar Kular (a designer making regular guest appearances on the blog) brought Elvis impersonation in the most unusual context: a conservative primary school.
By changing the traditional venue, audience and agenda of this form of entertainment, the Elvis was Here workshop aimed to address questions concerning the legal definition of impersonation and authenticity. The workshops are conducted with the eventual aim of breaking the world record for the "most Elvis impersonators in one location", by training children up to a minimum standard of quality that would legally define them as "impersonators". Working with Elvis Tribute Artist Paul Richie, each class-based activity is designed around the structure of a 'year four' primary school curriculum and the three basic acts of impersonation: Act-a-like, Look-a-like and Sound-a-like.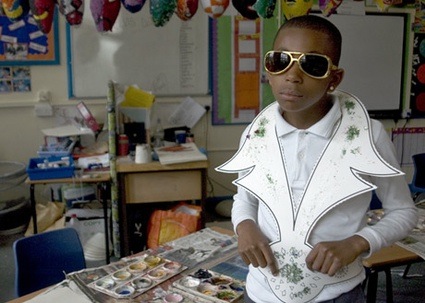 Elvis Was Here, 2008, Photograph by Thierry Bal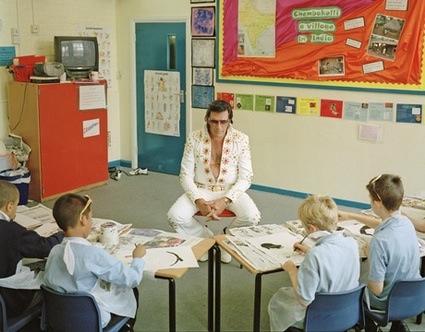 Elvis Was Here, 2008, Photograph by Thierry Bal
The workshop included an introduction to the Elvis impersonation industry, a portrait painting class of Paul Richie, an Elvis Fashion Class, an Elvis Dance Class, Elvis Music Class during which the children learnt to sing 'Hound Dog' and a specially prepared Elvis lunch box, consisting of a peanut butter sandwich, banana, chocolate chip cookie and apple juice. And of course an Elvis Song and Dance Performance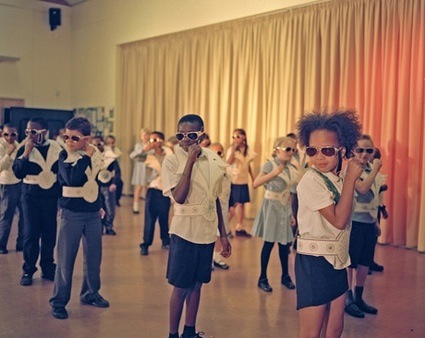 Elvis Was Here, 2008, Photograph by Thierry Bal
A little lesson from The King himself:
The first 'Elvis Was Here' day took place at St Saviour's Church of England primary school in Herne Hill, London on June 12th 2008.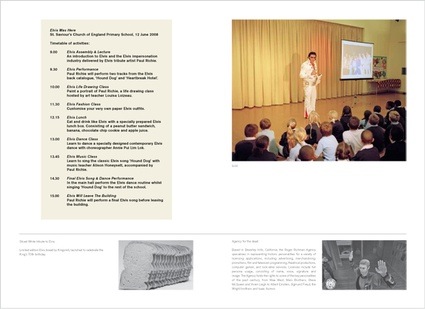 View inside the publication
More information about Elvis was Here and other projects and research conducted by Onkar Kular in the booklet Accept No Other Imitations. Published by Design Interactions, Royal College of Art, London.