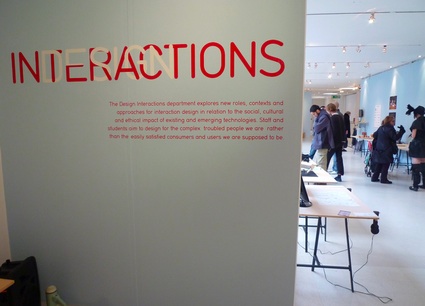 On Wednesday i had an alas far too short look at the Work in Progress show of the Design Interactions department Royal College of Art in London.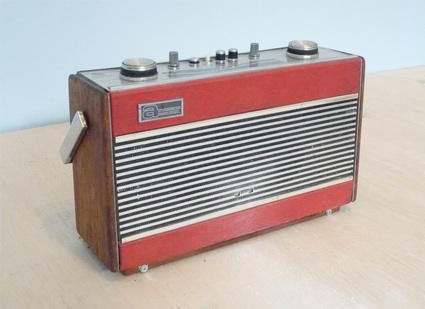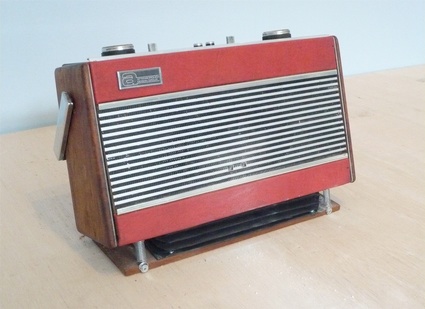 One of the projects i liked is by James Chambers .
Chambers postulates the existence of an experimental research group within Texas Instruments. Mostly active in the '70s and '80s, they called themselves the Attenborough Design Group (after the famous English naturalist) and examined how behaviours in nature could be applied to design.
Their first product was the 1972 Gesundheit Radio. Developed to protect early microprocessors from dust, the radio featured a sneeze mechanism that expelled dust from inside the casing every six month. A bellows system extracted dust from inside the unit, blowing waste from two outlets located on the front. Should the environment the radio lives in be particularly unclear, a convenient SNZ button enabled the user to activate the sternutation.
Gesundheit Radio from James Chambers on Vimeo.
Chambers is investigating the potential of other animal actions to be used as defense for a 'family' of between 3 and 5 products. In addition, he is re-interpreting the standing hard drive from last year (see video of the hard drive in action) as a portable floppy disk drive in the late 80's to fit in with the Attenborough Design Group timeline.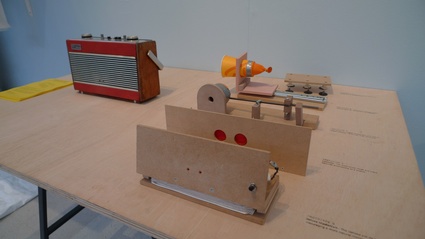 Various sneezing mechanisms developed by James Chambers (photo by d & r)
The exhibition is open all weekend and will close on Tuesday 9 February at 6pm.