Cyclone Uppercut is a boxing game that runs in Virtual Reality Simulators.
The player is a boxer who must fight his way up to be the Japanese Rookie Boxer Champion. His first opponent is "Big & Mean" Missy, a 7 feet tall female boxer.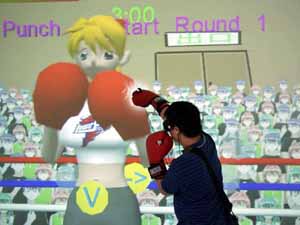 Three trackers are attached on the player; one for each fist to track punches, and one for the head to track dodges. Therefore the player has to really perform good combinations of punches and defense movement to play the game, with the consequent effects such as fatigue, sweat and other physical reactions.
Much like Dance Dance Revolution, Cyclone Uppercut provides a "boxing choreography" in which the player must execute a punch or dodge within a specified time and in specific sequences depending on what the virtual opponent does.
To take advantage of the surround screens, the enemy character rotates 360 degrees around the player, like in a real boxing ring.
When a player collects enough "Ki" or spirit points, s/he can perform special moves, such as the "Cyclone Uppercut".
Paper: PDF file .
Related: Punching the video game, Highly sensitive punching bag with built-in trainer.