For some reason, i always forget to check the programme of lectures and exhibitions taking place at the Architectural Association School of Architecture in London. And when i do, it's bliss and joy on every floor. Right now the institution is showing Cultural Hijack, an exhibition which presents a series of provocative interventions which have inserted themselves into the world, demanding attention, interrupting everyday life, hijacking, trespassing, agitating and teasing. Often unannounced and usually anonymous, these artworks have appropriated media channels, hacked into live TV and radio broadcasts, attacked billboards, re-appropriated street furniture, subverted signs, monuments and civic architectures, organised political actions as protest, exposed corporations and tax loopholes and revealed the absurdities of government bureaucracies.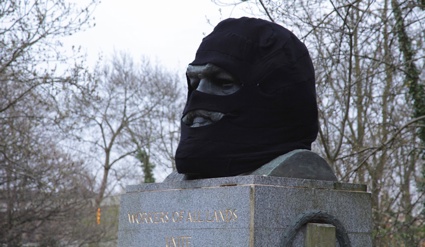 Ben Parry and Peter McCaughey, Balaclava Road (in collaboration with Lauren O'Farrell), 2013
Tatzu Nishi, Ascending Descendingi as part of Cultural Hijack at the Architectural Association London. 24th / 25th April 2013
Some works are openly political, others are more playful. Some have been designed to be used by people whose needs are otherwise overlooked, others are clever pranks. Cultural Hijack brings art out of the galleries and into the street. Which imho is always a good thing if you want to reach people who are not already convinced and content with your artistic, cultural or political ideas.
Cultural Hijack unfolds over three chapters: a slightly messy and crammed exhibition documenting the artworks in videos, photos, installations and artists' talks; a series of live-interventions around London; and CONTRAvention, a weekend of lectures, symposia, screenings, participatory actions, interventions, dinners and debate that will close the programme later this month. I'm spectacularly annoyed to miss that one as i won't be in town that week.
So let's wipe off a tear and make a quick selection of the works included in the exhibition.
Chicha Muffler Black Cab: yes, that one does exactly what it says on the tin. Instead of rejecting smoke, the modified exhaust of the cab provides a service of mobile hooka.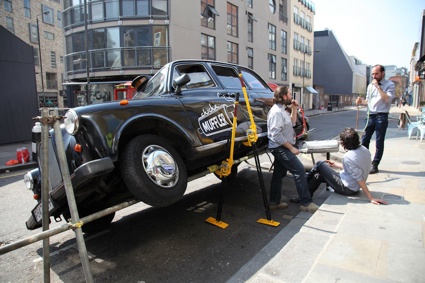 BGL, Chicha Muffler Black Cab, London, 2013. Image Ben Parry
My jaw almost dropped to the floor when i saw the description text and the video for Visual Kidnapping. Street artist Zevs cut out a 40ft woman from a Lavazza billboard in Alexanderplatz, Berlin and 'demanded' a 500,000 Euro donation to the Palais de Tokyo art center in Paris for her return. Which he apparently obtained.
Zevs, Visual Kidnapping, 2002
With the same haircut, twelve members of Ztohoven took a portrait pictures and using the Morphing software they merged every two faces into one. They applied for new Ids with these photos, but each of them used the name of his alter-ego. They lived for 6 months under someone's else identity, voted in the elections, travelled outside of the country, obtained a gun license or one of them even got married. After this period, they revealed theirs secret identities and documented the whole operation in an exhibition in Prague. The police confiscated their ID's and arrested co-founder of Ztohoven Roman Tyc for failing to show his ID card which was at the time part of the exhibition.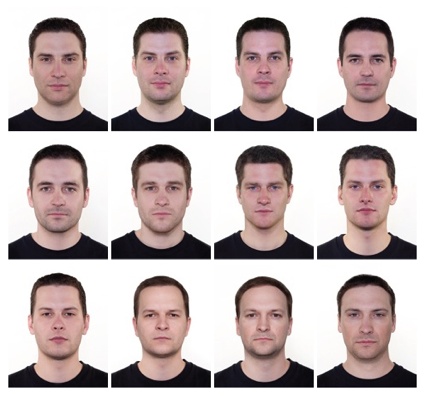 Ztohoven, Obcan K (from Citizen K), 2012
Paolo Cirio is showing the irresistible Loophole for All, a service to democratize offshore business for people who don't want to pay for their riches. It empowers everyone to evade taxes, hide money and debt, and get away with anything by stealing the identities of real offshore companies.
You can buy the identities of offshore companies on the website of the project Loophole4All.com at fairly low costs.
Cirio also interviewed major experts and produced a video documentary investigating offshore centers to expose their costs and to envision solutions to global economic injustice.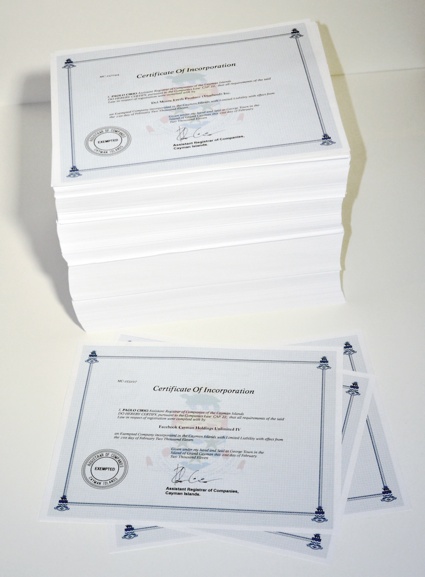 Paolo Cirio, Loophole for All
For his series of Minaret performances, Michael Rakowitz stands on a rooftop at the five designated times of prayer with a megaphone and an alarm clock that plays the entire adhan (the call summoning Muslims to prayer) from an embedded digital chip.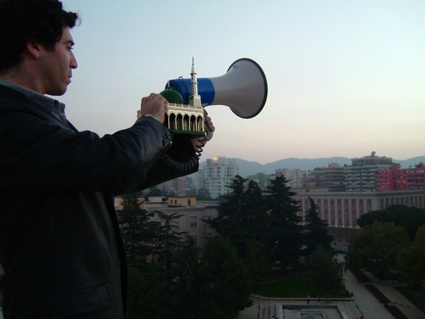 Michael Rakowitz, Minaret, 2001 – Ongoing (Enver Hoxa Monument (Pyramide), Tirana, Albania 2005)
Electronic Disturbance Theater's Transborder Immigrant Tool hacks cheap GPS mobile-phones to install a device for helping Mexican immigrants cross the U.S.-Mexico border, providing them navigation, poetry, the location of highways, border patrols and water left by Border Angels in the Southern California desert.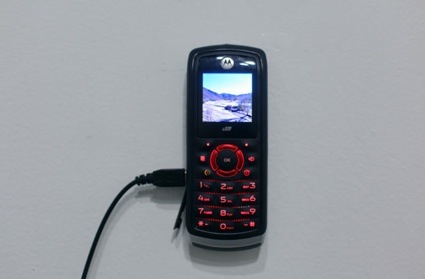 Electronic Disturbance Theater 2.0/b.a.n.g. lab, Transborder Immigrant Tool (2007; photo courtesy 319 Scholes)
EPOS 257 crafts oversized bullets that he fills with paints then shoots at commercial billboards and architectures using an extra-long shooting instrument. Each piece is both a unique abstract painting and a gesture of reverse takeover.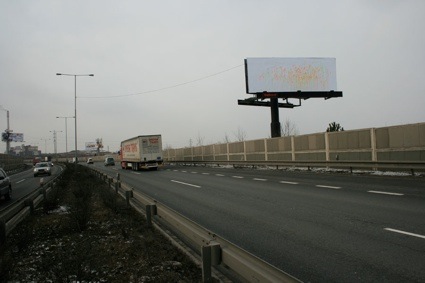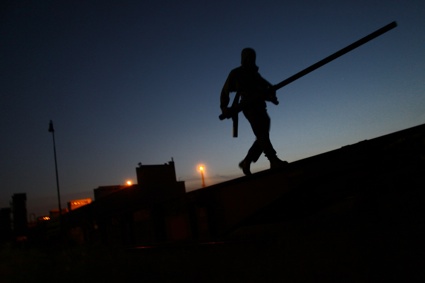 Urban Shoot Painting, Prague and suburbs, winter and spring of 2009
An 'old' one i was ignorant about: The Clandestine Insurgent Rebel Clown Army [or CIRCA], an army of professional clowns who protest against corporate globalisation, war and other issues.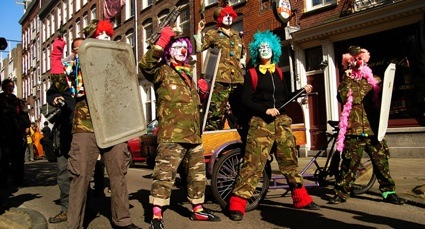 The Clandestine Insurgent Rebel Clown Army. Photo Karen Eliot
I'm sure you know this one already. I still find it as charming as ever: Matthias Wermke & Mischa Leinkauf's In Between ("Zwischenzeit") used homemade handcars that can be folded into backpacks to sneak into Berlin's U-bahn and navigate it at night.
Matthias Wermke & Mischa Leinkauf, Zwischenzeit Trailer
Cultural Hijack was curated by artists Ben Parry and Peter McCaughey. It runs daily at the Architectural Association School of Architecture, London, until 26th May 2013. The final weekend will be dedicated to CONTRAvention, a series of lectures, symposia, screenings, participatory actions, interventions, dinners and debate.