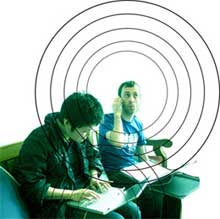 Conflux, the annual New York festival for contemporary psychogeography, will take place in Brooklyn, NYC, September 14-17.
At Conflux, participants turn NYc into a playground, a laboratory and a space for the development of new networks and communities. All events are free and open to the public. They include walks and tours, lectures, workshops, street games and tech-enabled expeditions, interactive performance, public art installations, movies, etc.
I've spotted a few interesting projects in the programme:
2.4GHz scape (image on the left), by Sawako Kato, will let audiences experience the realtime sonification of 2.4GHz signal (spectrum used for WiFi, microwave ovens, bluetooth, baby monitors, cordless game controllers etc.) around the place. People will also be invited to join the soundscape using their laptop or bluetooth devices such as the mobile phones to make the signal interference.
The Anti-Advertising Agency's Portable Sound Units are small sound-systems triggered only when pedestrians pass by them. They playback on-the-street interviews with the public about their opinions on outdoor advertising. Sara Dierck, Michael Dodge, and Steve Lambert from the AAA conducted hours of audio interviews about issues surrounding outdoor advertising with the public but also with selected individuals in the fields of advertising, conservation, and social criticism. They compiled and edited down the interviews into very short clips that raise questions about the role of advertising in culture. During Conflux, the units will be temporarily installed in various locations around the festival and area streets.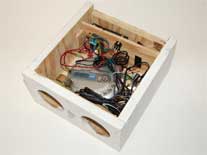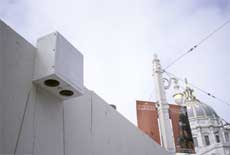 AAA Portable Sound Units
Also on the programme: Sue Huang's Street Cut-ups that uses text found on the street and remixes it to find surprising new meanings; Caroline Woolard will affix "seats� into the u-channel of the no parking and stop sign posts implanted in the sidewalk; Toby Lee and Fotini Lazaridou-Hatzigoga will invite you to freeze for 5 minutes; etc.
Another Glowlab production: The Drift Relay , a collaborative psychogeographic experience in the form of a 24 hour relay-style exploration of San Jose, will kick off next week at ISEA: Tuesday, August 08, 10am – Wednesday, August 09, 10am.