To celebrate its 150th anniversary, watch company Timex teamed up with Core77 for a design competition: Timex2154: THE FUTURE OF TIME that asked designers to explore and visualize personal and portable timekeeping 150 years into the future.
The winner of the wearable category, is Alexey Koptev's Sticker Watches which come on a roll, with perforations. Each sticker includes a timer, clock, and calendar: you just tear off a watch and stick it anywhere.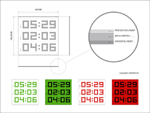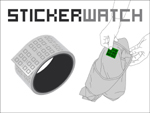 It didn't win but was my favourite in the wrist-based category, the Xemit bracelet of Aleksei Mikhailov has twisting arms that project two rays of light onto the wearer's wrist to represent the hands of a clock.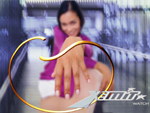 In the Notable section, there's Dan Harden's Skindiglo, a cream filled with nanobots, that you can apply anywhere on the body. The nanobots can receive voice commands and wireless information (such as broadcast time) and then arrange themselves in the form of a clock, a calendar, or any image the user desires, right there on the surface of the skin. It wears off naturally and is replaced whenever the user wishes.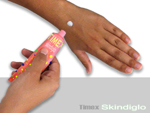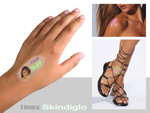 There are many many more concept products and I really cannot figure out how the jury managed to choose between so many truly original ideas.
Via 21f.