Digital Street Game is mobile social game set on the streets of New York and conceived by two graduated of NYU's ITP program – Michele Chang and Elizabeth Goodman (who worked on Familiar Stranger with Eric Paulos.)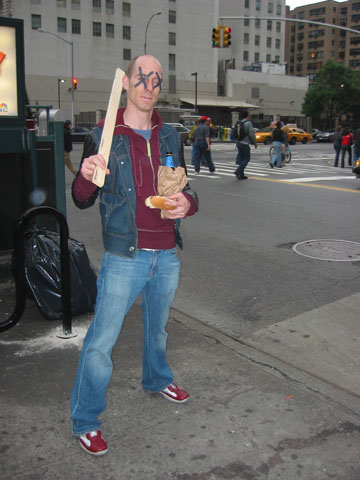 The research goals are to gain a better understanding of how games can be integrated into everyday life, how technology can play a role in fostering engagement in urban places, and how collective views can aid in building community.
Digital Street Game is an Internet-enhanced street game in which players stage and document small interventions or "stunts" on the street corners of New York in order to claim turf on a virtual map of the city.
So once players have gone to the street corner, performed the stunt, and taken some pictures, they upload them to the website to claim their turf. The photos of the stunt are the proof that a player is the official new owner of that corner.
Via Montage, Picturephoning and Purselipsquarejaw.