Alejandro Tamayo is an artist-engineer and a teacher working in the intersections of design, art and new technologies in Bogota. A year ago, i interviewed Alejandro about the lab he's currently directing in Bogota.
The v*i*d*a lab, part of the Aesthetics Department at the Javeriana University, is focusing on the development of new design products and ideas. Guided by a reflexion on life itself, the course proposes to engage with organic (biological) and "post-organic" (electronic, digital) visions, trying to identify new relationships and interrogations that could be translated into the realization of concrete projects.

Random Hamster allows pets to participate to card games
I stumbled upon the projects of the latest v*i*d*a lab over the weekend and liked some of them so much that i thought that it wouldn't hurt to cover some of them on wmmna. Which meant pestering Alejandro with some more questions:
What was the brief you gave to students at the beginning of the workshop? Was there a particular theme to explore?
We don't start with a particular problem to be solved, instead we always begin with a very broad question: what is life? Students are then encouraged to explore and contrast scientific and mystic approaches. some liked ideas and characteristics derived from considering living organisms as open systems, others reflected about life as a particular organization of matter, others were interested in concepts derived from thermodynamics, cybernetics, etc., while others liked ideas about chance, causality, teleology and so on. After this phase students had to look for ways to apply their findings and interests in their own contexts looking for ways to draw connections to their every day lives. The idea is that they start to confront their "objective" findings with their subjective and personal experience. And this is the way all the projects start to appear. For some it took a long time to come up with something while others found interesting connections easily.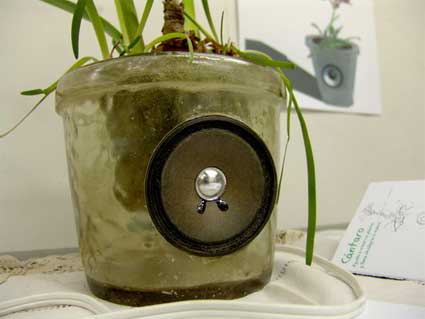 Cántaro, a flower pot that plays music according to the plant conditions
Who are the students? What are they studying and what is their background in electronics (if any)?
They were all students of industrial design and they were in their 7th semester. None of them had a previous knowledge in electronics. We try to make them appropriate very rapidly the basic language needed to understand an electronic diagram, to play with electronic components and sensors, to break them, and to try to overcome the fear of disassembling electronic objects. The also start messing up with microcontrollers (pics and the arduino platform) from very early in the program.
The projects are detailed on a webpage but here are some of my favorites: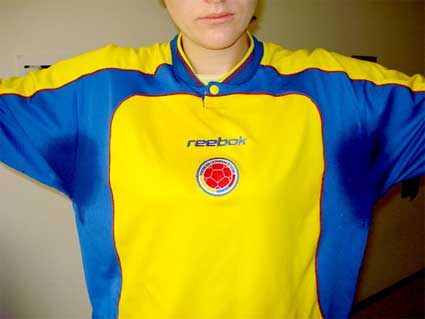 T-shirt that sweats
The T-shirt that sweats, by Mariana Rivera. Sweat, a natural phenomenon present in most forms of life, is usually regarded as unpleasant and something to hide in most western countries and in America especially. There is one exception: futbol (soccer, football) T-shirts. Considered as a fetish object, a sweated T-shirt worn by one's favorite player is considered of great value.
T-Shirt That Sweats proposes to provide the football supporter –who couldn't attend the match but follows it from afar, on his or her tv– with a more intimate contact with the action that takes place on the field. The project could thus enrich and expand the communicative power of the tv set through a t-shirt that sweats according to the sound levels of the TV screen during the game.
Working prototype: a microphone captures the sound signals coming from the tv set. The sounds are then filtered using a microcontroller. When the sound goes beyond a certain level, a water pump hidden inside the garment wets the t-shirt. Programmed using Arduino.
The second project i wanted to highlight is less "in your face" but it is also very endearing and fascinating: Cafetera VLF (aka VLF StreamCafe), by Andrés Vargas, refers to 2 projects i liked a lot (although one is much more credible than the other):
– Jean-Pierre Aubé's VLF Natural Radio which underlines how the growing use of the frequencies necessary for digital and wireless communications is overriding the naturally produced waves of the northern lights and other climate-related signals. According to Aubé, "eventually, VLF waves will be completely drowned out by the signals of various telecommunication systems."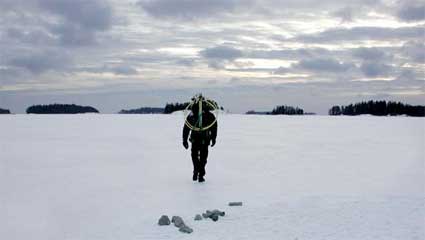 Capture de sons sur la Baltique, Finlande, 2003
– Masaru Emoto's theories and experiments on our thoughts, words, ideas and music affect the molecular structure of water. The Japanese researcher claims that if human thoughts are directed at water before it is frozen, images of the resulting water crystals will be beautiful or ugly depending upon whether the thoughts were positive or negative.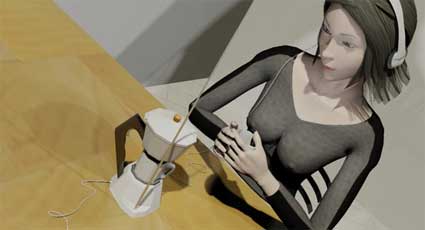 VLF StreamCafe
The earth is constantly emitting a variety of sounds ranged in the VLF spectrum (very low frequency) which are the result of electromagnetic activity taking place in the magnetosphere. Some compare these sounds with spontaneous Earth Songs and we may also interpret them as an evidence of our planet's activity as a living organism. To listen to these sounds we need a VLF radio receiver (D.I.Y. example by Stephen P. McGreevy). Inspired by this phenomena and by Masaru Emoto's research (that reflects about the profound sensibility of water to the subtleties of its surroundings).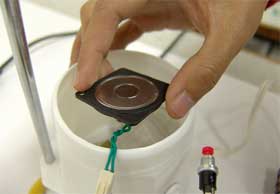 VLF StreamCafe proposes to relate the activity of the planet with daily life gestures (making and drinking coffee), exploring the incorporation of a VLF receiver into a coffee maker, connecting the water we use to prepare coffee with real time Earth Songs.
The concept would thus materialize in a coffee machine able to transmit the emotions, feelings, songs and energy of our planet through the coffee, reminding us of our intimate relationship with the planet we live in. The tiny vibrations generated by the sounds wold be captured by a VLF receptor and transmitted to the water used for the coffee.
In February, the first public exhibition of v*i*d*a* will take place at the Alliance Française, in Bogota. In March, Alejandro will be in Helsinki to give a presentation at the Pixelache festival.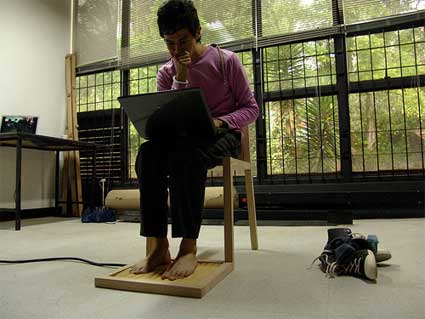 Una Silla, a "placebo'd chair"
Images of the projects, courtesy of Alejandro Tamayo.