The new episode of #A.I.L – artists in laboratories, the weekly radio programme about art and science i present on Resonance104.4fm, London's favourite radio art station, is aired tomorrow Wednesday afternoon at 4pm.
This week i will be talking about beautiful but also politically-revealing data mapping with Burak Arikan, a New York and Istanbul based artist working with complex networks. Burak runs social, economic, and political issues through an abstract machinery, which generates network maps and algorithmic interfaces and draws up predictions that render inherent power relationships visible, thus discussable. Arikan's software, prints, installations, and performances have been featured in numerous exhibitions internationally. Arikan is the founder of Graph Commons, a platform dedicated to providing "network intelligence" for everyone.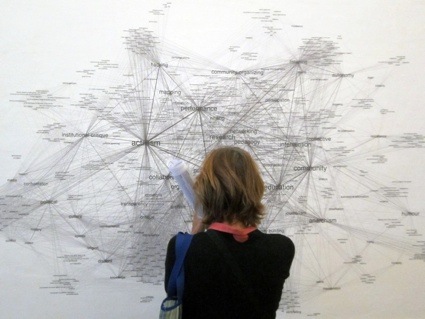 Truth Is Concrete Network Maps, 2012
I met Burak at the opening of the Datascape exhibition at Laboral in Gijón (Spain) where he was showing Monovacation. In this episode we will talk about the ultimate cliché holiday but also about the Networks of Dispossession, the collective mapping of data about the relations of capital and power within urban transformation in Turkey. I also had plenty of questions about Graph Commons which seems to be a brilliant tool for reporters, researchers, activists, etc.
The radio show will be aired this Wednesday 26 March at 16:00, London time. Early risers can catch the repeat next Tuesday at 6.30 am. If you don't live in London, you can listen to the online stream or wait till we upload the episodes on soundcloud one day.