Brands are passing up the chance to establish emotional connections with consumers because they insist on communicating visually, according to sensory communications group Brand Sense Agency. 83% of all commercial communication is visual although 75% of our emotions are influenced by what we smell (there's even a patent project out there that would allow US Army officers to use coded smells to give orders), while there is a 65% chance our mood would change when we hear a new sound (given the irritating soundtrack of their website, i feel that the agency should work harder on the sound concept.)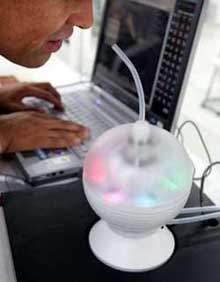 Internet aromatherapy service
8 years ago, Simon Harrop, the agency's executive director, was involved in creating a fragrance that emphasised a bank's stated brand positioning of "personable, proper, fresh and new". The fragrance was sprayed in branches and on stationery including chequebooks, but the project ended after it was deemed too expensive.
The agency is now working with a retailer that wants to use smell to extend revenue generation from its shelf space into the airspace within the store.
A car manufacturer is using the agency to enhance the experience of driving its cars by altering its car design to encourage multi-sensory stimulation (like the Rinspeed Senso car?).
Via The Guardian.
Related entries: Wallpaper for succulent space, scent projector, digital fragrances, etc.