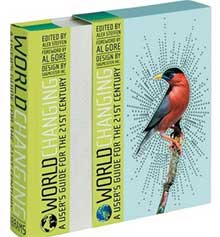 Worldchanging: A Users Guide for the 21st Century is a compendium of innovative ideas and inventions emerging today for building a sustainable, livable, prosperous future. It is a great book. But don't take my word for it, i'm biased. I contributed to it (just a tiny chapter) and i'm convinced that its editor, Alex Steffen, is one of the nicest, smartest and most honest guys you could ever stumble upon (nice eyeglasses as well!)
So let's list a series of objective reasons that might convince you that i'm right to have prejudice.
The book talks design, politics, business, art, (slow) food, nanotechnology, copyfight, compact houses, etc. It will take you from what's inside your stomach to the solar system, from Brazil's telecentros to the Editt Tower in Singapore, from mushrooms that break down pollutants to the Barefoot College.
And if sustainability and humanitarian issues are just not your scene, may i tempt you with some name dropping? Sagmeister designed the volume, Al Gore wrote the foreword and Bruce Sterling the introduction, Phil Torrone gave some of his favourite examples from the DIY culture, Cameron Sinclair (the co-founder of Architecture for Humanity) and it-would-be-rude-to-present-him Cory Doctorow have also contributed to the book, etc.
Did i read the whole volume? Not yet, it is divided in small chapters, so i'm enjoying it according to the mood of the day. This week, i'm into the chapter dedicated to "Shelter". Last month i went through "Cities", bit by bit. And in (almost) no particular order. There are also many images that make the task of reading over 550 pages less formidable.
The contributors of the book are well aware that their world changing task is herculean given the intricate, complex and disheartening mess we've been so keen to create around us. They are not bringing you on a silver tray the solutions to our planet's problems, but each page they wrote is a stimulating invitation not to stand back and stay idle.
"I think it's not enough to be smart and talk about the problems—now it's becoming crucial to address how to change them," explained Alex in a Businessweek interview. "Our site and book are trying to disseminate knowledge from various arenas to spur imaginations and prod them to action. We hope the book will be a resource for people ready to do something and reimagine the world."
The World Changing tour on the US roads is about to end, hopefully they'll visit us in Europe soon!