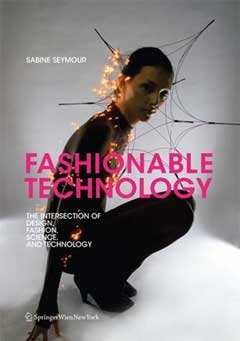 Fashionable Technology: The Intersection of Design, Fashion, Science and Technology, by Sabine Seymour (Amazon UK and USA.)
Published by Springer, abstract: The interplay of electronic textiles and wearable technology, wearables for short, and fashion, design and science is a highly promising and topical subject. Offered here is a compact survey of the theory involved and an explanation of the role technology plays in a fabric or article of clothing. The practical application is explained in detail and numerous illustrations serve as clarification. Over 50 well-known designers, research institutes, companies and artists, among them Philips, Burton, MIT Media Lab, XS Labs, New York University, Hussein Chalayan, Cute Circuit or International Fashion Machines are introduced by means of their latest, often still unpublished, project, and a survey of their work to date. Given for the first time is a list of all the relevant information on research institutes, materials, publications etc. A must for all those wishing to know everything about fashionable technology.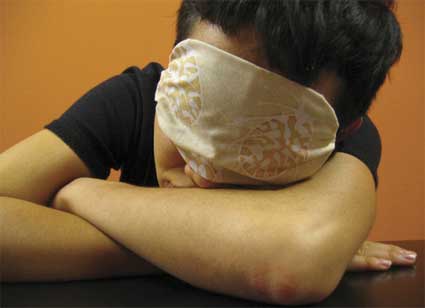 Lags, a series of patches for coping with social jet lag, by Teresa Almeida
The book contains only 15 pages of theoretical discourse. It might not sound like a lot but they have the virtue of going straight to the point. Sabine Seymour knows what she's writing about. Because the Vienna slash New York-based designer and researcher has spent several years dedicating her energy and brain to the exploration of what the next generation wearables would bring, she can see beyond the hype and detect what is truly inspiring or meaningful design-wise. Mondial Inc is a commercial entity born from her research and her role as an educator. She has lectured and exhibited her work internationally and she's currently a faculty member at Parsons The New School for Design in New York and the University of Arts and Industiral Desin in Linz, Austria.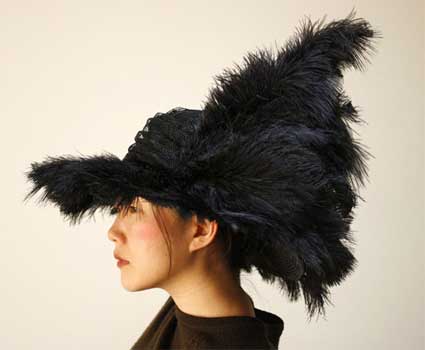 Taiknam Hat, by Ricardo Nascimento, Ebru Kurbak and Fabiana Shizue, reacts to medium wave radio signals
The theoretical intro covers briefly the history of wearable computing, comments on the technology used to enable garments to interact, underlines textile innovations, adds some design considerations in the process, etc.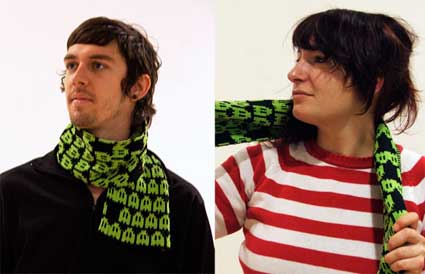 Space invader knitting by Be-Geistert
After the intro, there's just a magnificent show and tell of some of the latest (a number of them haven't been published anywhere else) and most interesting techno-fashion projects. You'll find the big names of the industry (phillips, Nike, Adidas) but also pioneering and fearless fashion designers (Hussein Chalayan), the explorers of poetical fashion (Ying Gao), the young stars (CuteCircuit), the makers of fermented dresses (Donna Franklin), the always elegant (Despina Papadopoulos), the unclassifiable Kate Hartman), the lady ready for the catwalk in outer space (Kouji Hikawa), the geeky knitters (Cat Mazza, Ebru Kurbak & Mahir Yavuz), etc.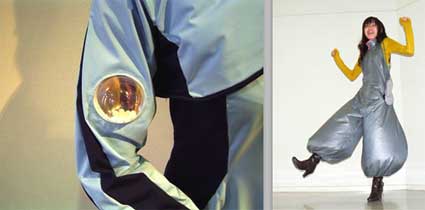 Kouji Hikawa's Space Suit and Cooling Pants
The book won't tell you everything you dream to know about fashion and technology, how to make a singing skirt or used nanotech in your next project, but it will definitively enable you to have an idea of the breadth and scope of the discipline. Besides it demosntrates that techno-fashion designers have gone a long way since the time "wearable technology" consisted of a keyboard roughly distributed over the body.
There are many books about fashion and technology but this one is truly unique. It's engaging, intelligent and it will make you smile and inspire as you turn the pages over. Besides, it makes a fantastic resource for students and anyone interested in the subject. There's a bibliography, a glossary of innovative materials, a list of blogs and websites but also events and institutes which will enable readers to dig further into the subject.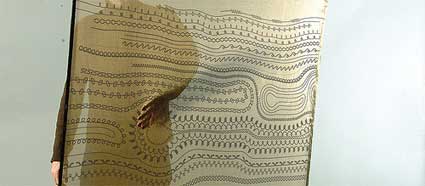 Textile XY by Maurin Donneaud
The book was launched last Thursday in New York. Phil Torrone from Make magazine was there. Just for info, Ulrike Reinhard had a chance to video one of Sabine's presentation a while ago.
Image on the homepage is Diana Eng and Emily Albinski's Inflatable wedding dress.