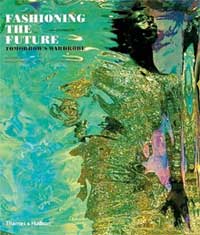 Fashioning the Future. Tomorrow's Wardrobe, by Suzanne Lee, a Senior Research Fellow in Fashion at Central Saint Martins, London (UK).
The editor says: Spray-on dresses, growable suits and self-cleaning shirts may soon become everyday items. This visionary exploration of where fashion and clothing are headed provides the first guide to the astonishing ways in which contemporary science and technology are shaping what we wear.
I'll start with the nasty comment: i found the format, the glossy pages and the use of totally black pages to separate chapters annoyingly pretentious and eco-offensive. My first thought was that i'd have a hard time taking very seriously a book that looks so much like Vogue very seriously. But i calmed down as soon as i focused on the content.
The book gives an excellent overview of the state of the art in fashion and textile innovation. There's a lot of works from the big names of today's fashion avant-garde such as Walter Van Beirendonck, Hussein Chalayan (his work is gracing every chapter of the book), and Issey Miyake, a peek into research labs and also some of the projects that you can find in the wearable section of this blog or on twenty1f. I might lament that not much place has been left to art but it is a perfectly understandable editorial choice.
The chapters are extremely well documented and written, their content is the one we can expect: innovation in textile, health, communicating or glowing clothing, etc. At the end of the book are the always much appreciated goodies: a glossary and a list of websites.
What makes this books stand out from the other books written about the same subject is the many images and stories taken from old movies, archives, as well as 50's and 60's magazines (which is a bit paradoxical for a book which title features the words "future" and "tomorrow".) It gives a very interesting cultural and historical context to today's fashion and reminds us that what we may regard as a major breakthrough or a novel idea might have already been explored a while ago.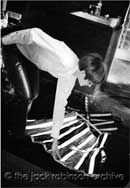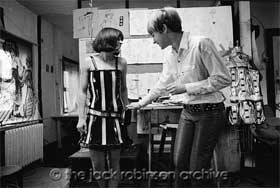 For example, the book explains how the use of light in clothing and jewellery is nothing new. Battery-powered illuminated brooches and diadems became a fashion fad in France and England in the 18870s and 1880s. Then in the 60s Diana Dew created electric costumes for musicians and battery-operated garments with inserted panels of electroluminescent films that flash rythmically in time with the music in nighclubs.
Diana Dew image source.