Forensic Architecture: Violence at the Threshold of Detectability, by Eyal Weizman, founder of Forensic Architecture, founding member of the architectural collective DAAR in Beit Sahour/Palestine, Professor at Goldsmiths College, University of London and a Global Scholar at Princeton University.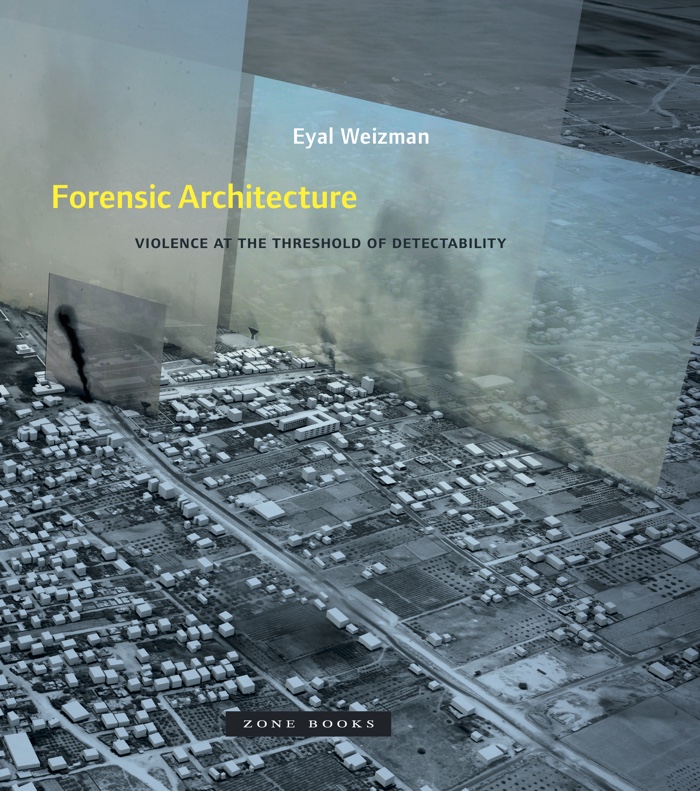 Publisher Zone Books and distributor by The MIT Press say: In recent years, the group Forensic Architecture began using novel research methods to undertake a series of investigations into human rights abuses. Today, the group provides crucial evidence for international courts and works with a wide range of activist groups, NGOs, Amnesty International, and the UN. Forensic Architecture has not only shed new light on human rights violations and state crimes across the globe, but has also created a new form of investigative practice that bears its name.
The group uses architecture as an optical device to investigate armed conflicts and environmental destruction, as well as to cross-reference a variety of evidence sources, such as new media, remote sensing, material analysis, witness testimony, and crowd-sourcing.
In Forensic Architecture, Eyal Weizman, the group's founder, provides, for the first time, an in-depth introduction to the history, practice, assumptions, potentials, and double binds of this practice.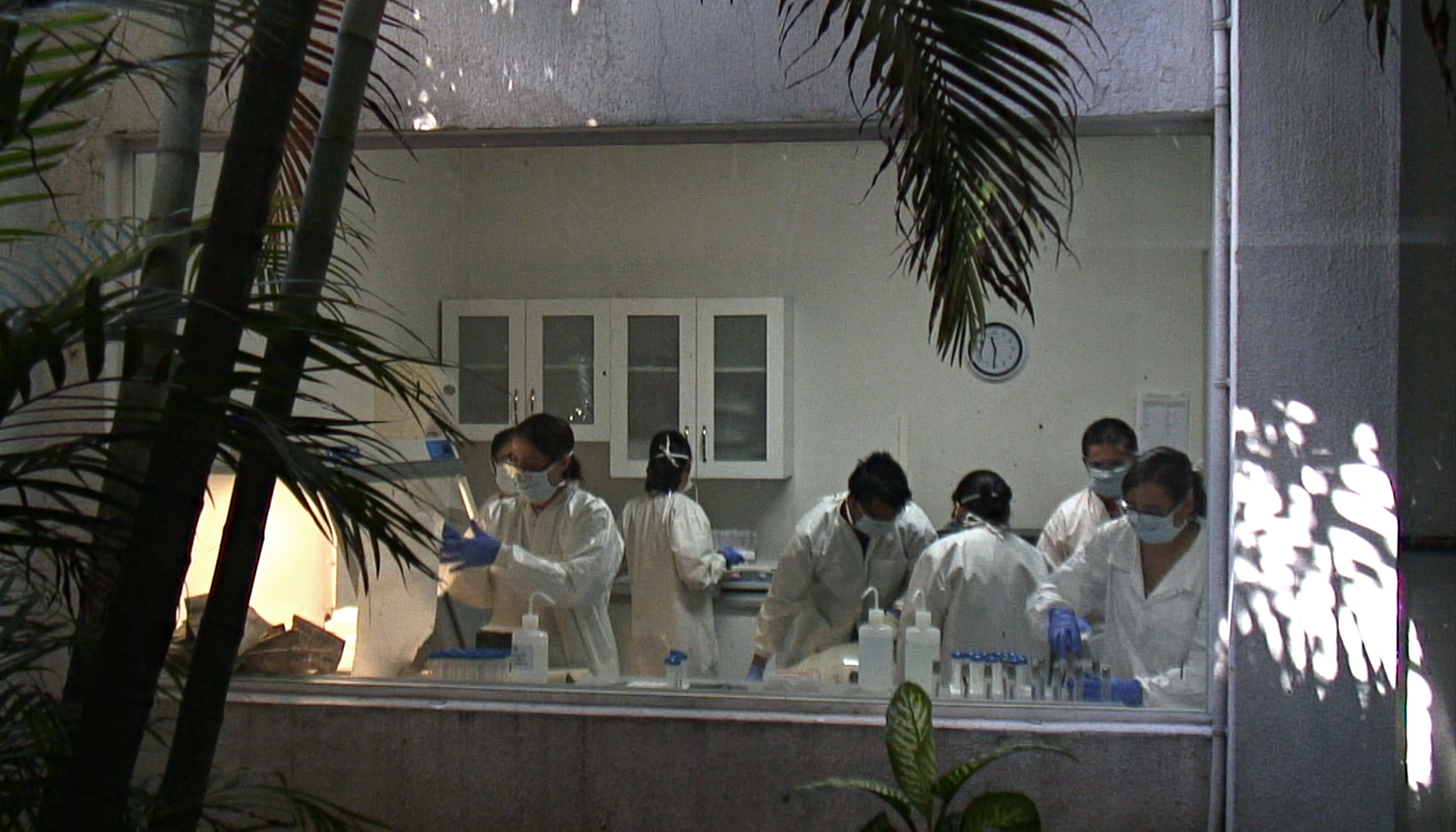 Forensic Architecture, Guatemala: Operación Sofia (The DNA identification room at Laboratorio Clyde Snow, Guatemala City, November 2011. Photo: Paulo Tavares, Eyal Weizman)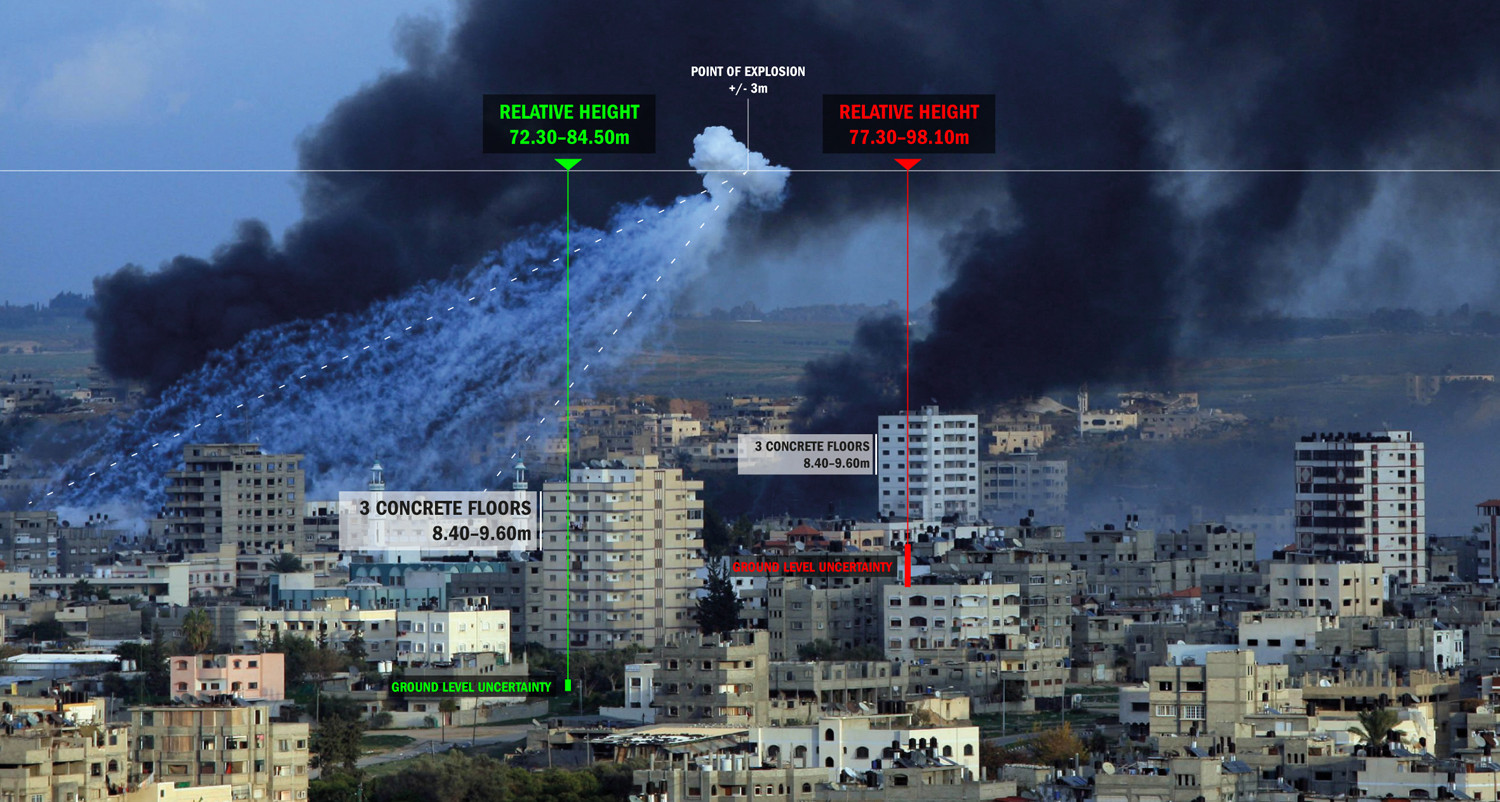 Forensic Architecture, White Phosphorus
Forensic Architecture is a multidisciplinary research agency composed of artists, filmmakers, writers and architectural researchers who use architectural methods and repurpose new sensing technologies to investigate and expose state or corporate violence, especially when it bears upon the territory.
The group analyzes WW1 aerial photographs, inspects satellite images, deploys kites for land surveys, investigates material traces left on the ground, builds 3D models to re-create atrocities, creates interactive cartography and countercartography, collects testimonies of survivors, scrutinizes user-generated media made by citizens on the ground and uploaded on the internet, etc. Forensic Architecture uses any mean and media necessary to reconstruct evidences of violence that are inscribed onto the land and built environment. Their meticulous work is then turned into evidence that can be used in legal settings to challenge the official narrative of critical events. Sometimes, some form of justice is eventually reached. Other times, miscarriages of justice or even complete absence of justice prevail.
The case studies detailed in the book involve the reconstruction of a contested shooting in the West Bank, the architectural recreation of a secret Syrian detention center from the memory of its survivors, an investigation into the environmental violence and climate change in Guatemala, the 3D modelling of bomb clouds that are then used as fingerprints for locating Israeli strikes on the Gaza dense urban environment, patterns of Western drone strikes in Pakistan, Afghanistan, Yemen, Somalia, etc.
Along the pages, you get to learn a lot about the challenges that the members of Forensic Architecture encounter in their work: satellite imagery is more affordable than ever but its photographic resolution is degraded for privacy and secrecy reasons, at least when it comes to the ones available to the public (as Weizman notes, high resolution is used for killing and low resolution for investigating the killing); a commitment to helping the victims leaves the group exposed to criticisms, even though their method is rigorously scientific; legal system itself can be part of a state's mechanism of domination and denial; evidence from sources derived from new media video analysis, interactive cartography, or animation almost always encounter objection in court because they are too new, etc.
Saydnaya: inside a Syrian torture prison, a commission by Amnesty International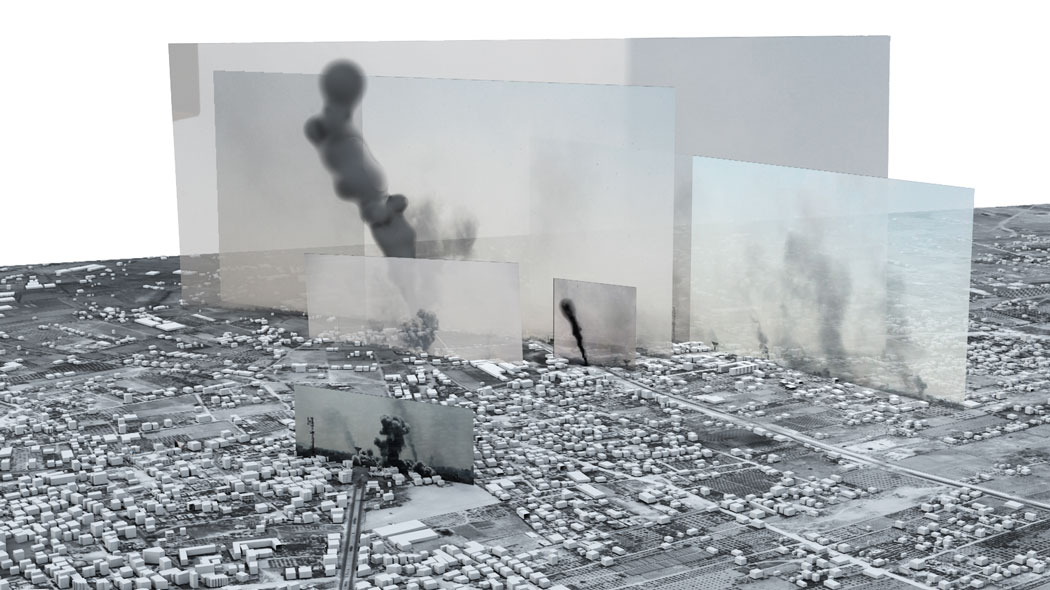 Rafah: Black Friday. Report on the war operations of 1-4 August 2014, in Rafah, Gaza. Image complex: Forensic Architecture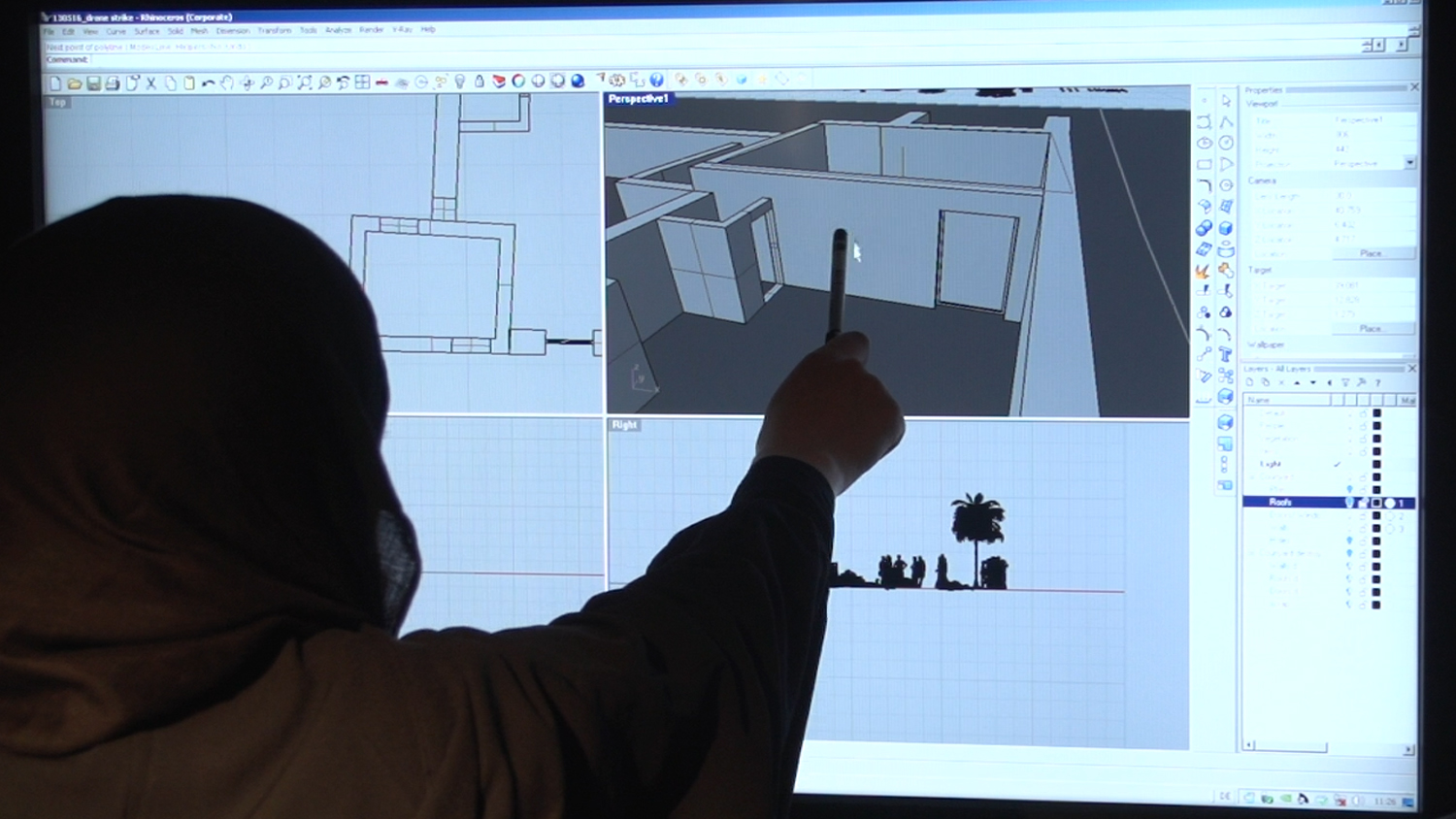 Forensic Architecture, Drone Strikes (Digital reconstruction of the scene of a drone strike in a 3D-mode. Düsseldorf, May 21, 2013)
The book is fascinating. It is dense in information, images, maps and documentation that record the way the organization is re-appropriating and re-purposing a broad number of skills and technologies in the context of activism and justice. Their method is characterized by a remarkable amount of scientific accuracy, but also by a surprisingly high percentage of flexibility, empathy and creativity.
The book is often disheartening too. State-sponsored violence makes for very uncomfortable read: tales of ruthless dispossession, of Bedouin villages bulldozed time and time again, brutal colonization of landscape, destruction of life-sustaining resources, arbitrary killings made acceptable by the cultural and legal system, erasure of culture, etc.
Forensic Architecture. Violence at the Threshold of Detectability is a publication i'd recommend to anyone interested in human rights, activism, geopolitics, urban planning, architecture, and in the creative and social-engaged uses of technologies.