Simon Conder Associates' Black Rubber House on Dungeness beach in Kent (UK) started as a conversion of a former fisherman's cottage and ended up three-quarters new build.
The house is built almost entirely of Finnish wood and clad entirely in black rubber. There's only one bedroom. Visitors are accomodated in the 1954 aluminuim Airstream caravan parked next to the house.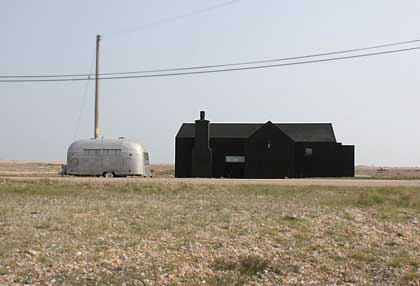 Image.
I read about the Black Rubber House in Talking Cities, a new mag launched at DesignMai. Words fail me to describe how much i like it. The glossy is thick, cheap, shockingly poor in advertisement space and the content will keep me busy for days. Themes include: Fragmented Cityscapes; Re-thinking Modernism's megavisions; Re-engaging contested spaces; Balkanisation; Micro-topias; DesinItYourself.