On Saturday, i visited the Biennale de la Photo de Liège. Now you might never have heard of Liège. Good for you! That's where i grew up and i must say that apart from the sticky Sirop de Liège (which i've never really liked but was nevertheless almost forced to eat), a fantastic programme at a couple of independent movie theatres, and Georges Simenon, there is nothing exciting nor even remotely nostalgic i'm ready to say about that city. Pass your way, dear tourist… Unless you happen to be stuck there before March 30.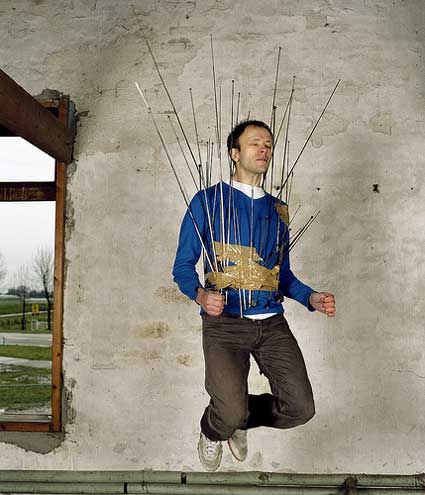 ANOUK KRUITHOF, no title, from the series « We are the blue people », 2007
The concept of Territories is the centre of Liège's 6th International Biennial of Photography and Visual Arts. This theme is explored through different aspects: "Mental Territory", "Political Territory", "Mutating Territory" or the relationship between "Territory and Identities".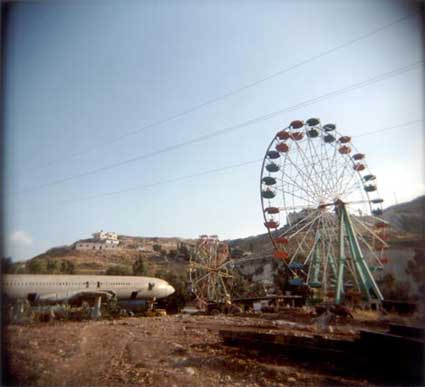 Brigitte Grignet, Nablus, West Bank, June 2005, from the series Palestine, Unfortunately It Was Paradise
The selection is really good but the curators didn't take any risk. I mean you can't go wrong with the likes of Edward Burtynsky, Xavier Delory and Patrick Messina, can you? Several aspects of this biennale looked a bit like a re-load of several exhibitions on the same topic i've seen over the past couple of years (namely BAC! Living in Babylon in Barcelona and Spectacular City in Rotterdam) but, hey, i enjoyed the biennale a lot so i'm going to stop spitting in the soup now. As I applauded some chapters of the biennale much better than others, i'll exercise my right to be a subjective blogger and focus only on what grabbed my interest.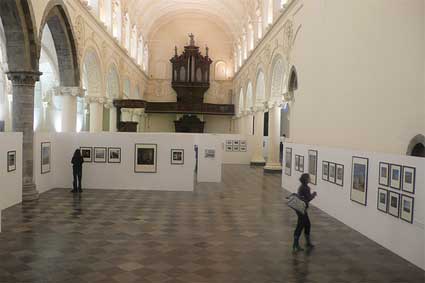 View of the Ancienne Eglise Saint-Antoine
Political Territory
My first stop was at the luminous Ancienne Eglise Saint-Antoine, an ex-church recently restaured with a very profuse helping of white paint. Wars and fights have marked the history of nations but also left stigmas on the landscapes and in the hearts of people. While some of the artists presented in the Political Territory exhibition turned their lens towards the geographical borderline – seen here as either a real or a symbolic delimitation, other photographers reflect on the human and social consequences which inevitably tailgate these geopolitical challenges.
A fascinating place was dedicated to migrants, "unrooted" or displaced persons, all those who move to another land following their own will or obligation and had to somehow adjust and rebuild a new community and identity.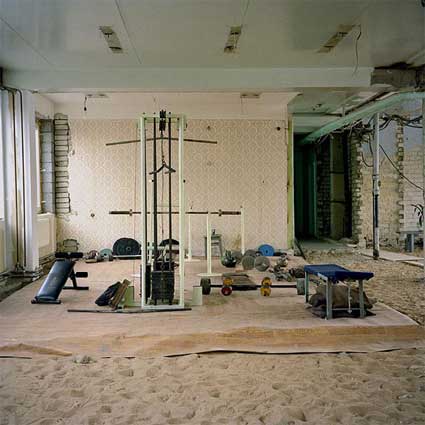 Yann Mingard and Alban Kakulya, from the series «East of a New Eden», 2001-2002
Today, long after the fall of the iron curtain, new reinforcement measures are being put into place. The buffer zone that was formerly made up of the 'sister countries' of the URSS, is slowly becoming the European Union's buffer zone against illegal immigration and illegal traffic.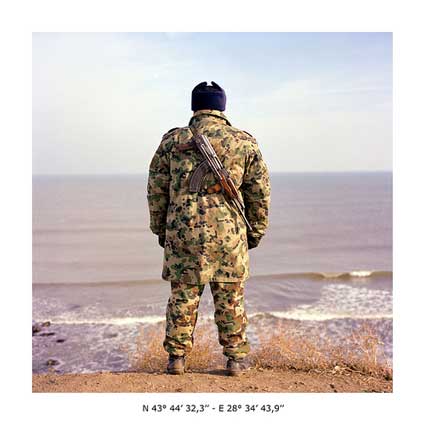 Yann Mingard and Alban Kakulya, N 43° 44′ 32 3" – E 28° 34′ 43 9", from the
series «East of a New Eden», 2001-2002
In 2002, just before some of the Eastern countries would join the European Union Yann Mingard and Alban Kakulya took a GPS and travelled along the length of Europe's new frontier, from the Adriatic to the Baltic to give a snapshop of the state of a border separating the European Union from countries of the ex-Soviet Union.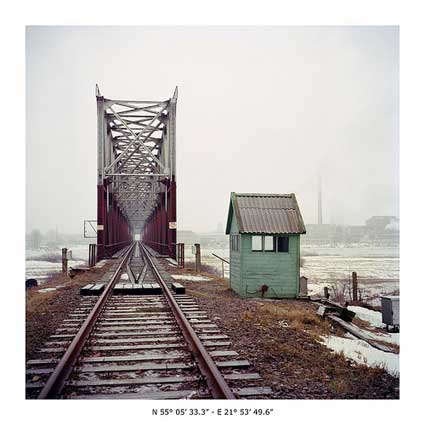 Yann Mingard and Alban Kakulya, N 55° 05′ 33 3" – E 21° 53′ 49 6", from the
series «East of a New Eden», 2001-2002 (c-print 100x100cm)
East of a New Eden raises a series of questions: What is happening today in a zone where people, who have been accustomed to the standards of the Ancient Regime, are suddenly expected to follow the rules of the European Union? Will the iron curtain be replaced by a high tech surveillance barrier?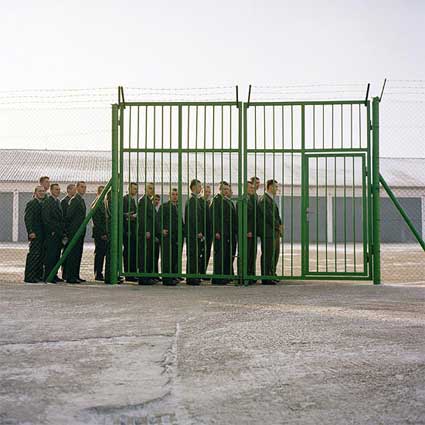 Yann Mingard and Alban Kakulya, from the series «East of a New Eden», 2001-2002
Rip Hopkins traveled to Uzbekistan, a country very few people could locate on a map but also an artificial country as it was peopled "forcibly" by outcasts from various counties of the former Soviet Union. The Displaced ("From Home and Away") photos are accompanied by a short text which tells the story of one of these Uzbeks who might or might not feel that they really belong there.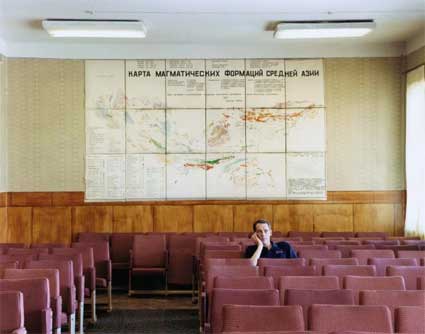 Rip Hopkins, from the series Déplacés, 2002
Leonid Svertchkov in Tashkent's Geology and Biophysical Institute's conference room. He is 42 years old. He is Ukrainian and works at the Science Institute as an archeologist specialised in Zoroastrian sites in the south of Uzbekistan bordering with Afghanistan. Leonid was born in East Germany and came to work in Uzbekistan in 1982. He will not leave to join his wife and two sons living in Athens, Greece. 30/07/02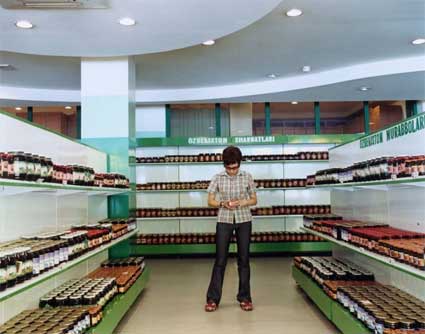 Rip Hopkins, from the series Déplacés, 2002
Lena Olegovna in the shop Les cadeaux de la Dame Nature in the city centre of Tachkent. Lola Karimova, the elder daughter of President Karimov, owns this shop. Lena is 24. She is an english, russian and ouzbek interpret. Her mother is Tatar and her father is half Russian and half Ouzbek. She want to go to Norway. 03/08/02
With Linewatch – Pasaje en la frontera, Laetitia Tura documents the border areas between the United States and Mexico and in particular the police control systems erected across the accidents of the landscape.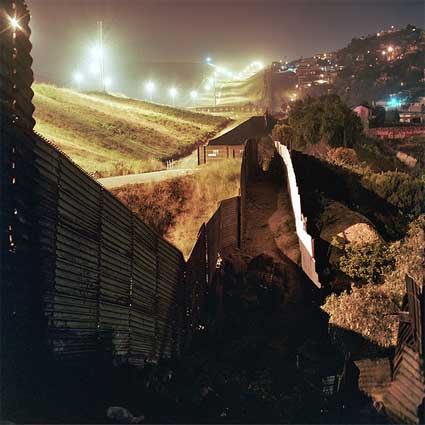 Laetitia Tura, Lumière inquisitrice 7, Colonie Libertad, Tijuana, Mexique, 2005
Jérôme Brézillon's series Souverains, Indiens des Plaines is a breathtakingly beautiful and thought-provoking series about the fate of Indian Americans. In 1868 the Treaty of Fort Laramie set the frontiers of the land assigned to the Yanktonai Sioux, Santee Sioux, and Arapaho and stipulates that the land is theirs to use as they deem fit. History showed that their territory was not always respected.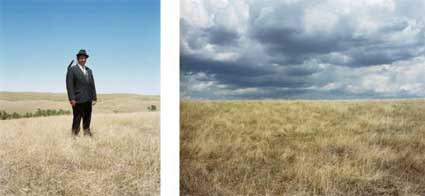 Jérôme Brézillon, Souverains, Indiens des Plaines
In the Souverains (Sovereigns) series Brézillon juxtaposes a portrait of a Sioux Lakotas with a landscape of Indian reservations. An identity relationship is instantly created. History, myth and ancestry ensure that the intimacy cannot vanish so easily nor be reduced to folklore.
Mutating Territory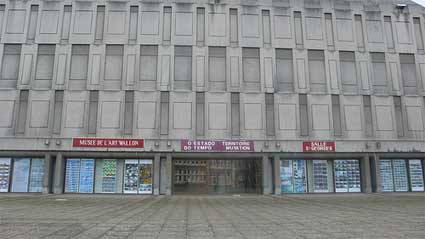 View of the Musée de l'Art wallon
The exhibition Mutating Territory, at the greyer than grey Musée de l'Art wallon, explores how men appropriate a territory and shape it according to their own requirements.
But doesn't this new territory in turn also shape a new humanity?
Joël Tettamanti toured the globe to document the way mankind takes root in the landscape.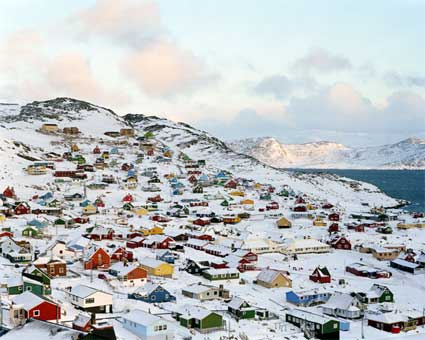 Joël Tettamanti, Qaqortoq_1781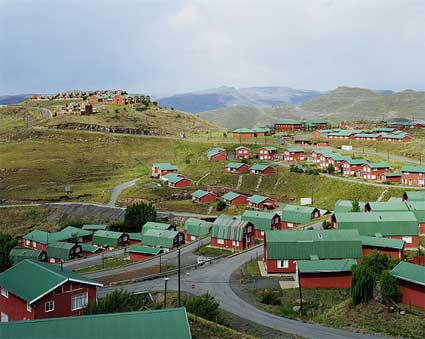 Joel Tettamanti, from the series Maloting, Lesotho, 2004
Edward Burtynsky collects evidences of man's boundless disregard for the planet: oilfields, polluted ship-breaking beaches, recycling yards, quarries, industrial refineries, etc. He takes images of the colonized landscape but he also enters factories to take sublime shots of intricate industrial constructions or chain workers in the process of loosing any personality.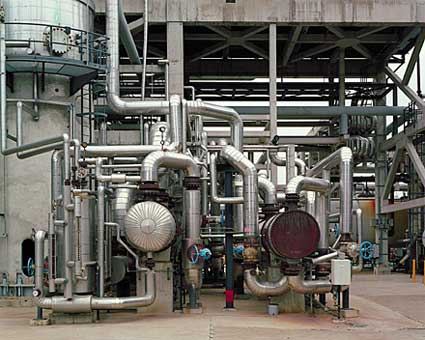 E. Burtynsky, Oil Refineries No. 14, Saint John, New Brunswick 1999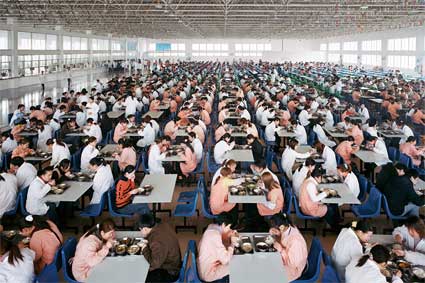 E. Burtynsky, Manufacturing 16, Bird Mobile, Ningbo Province, China 2005
Xavier Delory didn't have to take any plane to dedicate his attention to the houses "clé sur porte" (key in the door), they are all over Belgium and many other European cities. Manipulating the images to remove any trace of door and window, he leaves us with a soul-less canvas which has no qualm about being in total disharmony with the environment.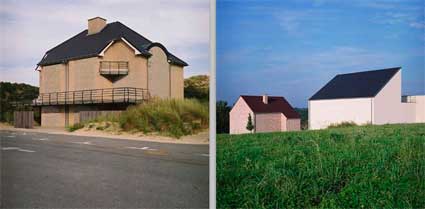 Xavier Delory, from the series Habitat
Mental Territory
I'm going to pretend i haven't visited Territory and Identities and go directly to Mental Territory at the MAMAC. The territory this time is the one of human intimacy, the internal territory mapped by our choices, family, loneliness, etc. Although i tried as hard as i could there was little attention left for anything else than her pictures the moment i saw Marrie Bot's Geliefden. Timeles Love. The series shows elderly having some very intimate moments. Hard not to let your jaw drop and ask your companion "How can they?" "You'll find me so awful when i'm seventy, we will just hold hands and that's it right?" Hard to also not to think that these couples are incredibly lucky to still love each other so much after decades of marriage.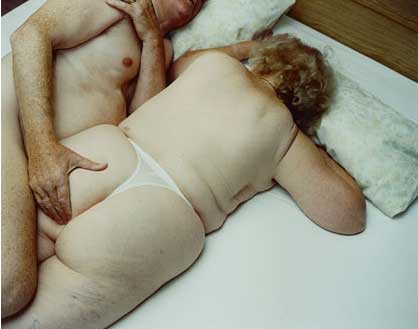 Marrie Bot, Liesbeth (76) and Cor (70), Geliefden-Timeless Love, 2004
Territoires, the 6th Biennial of Photography and Visual Arts is on view at several venues in Liège until March 30.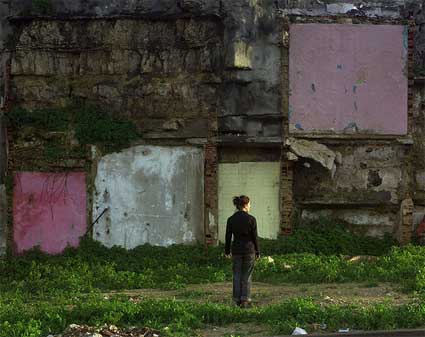 Mathias Nouel, Iris, 2004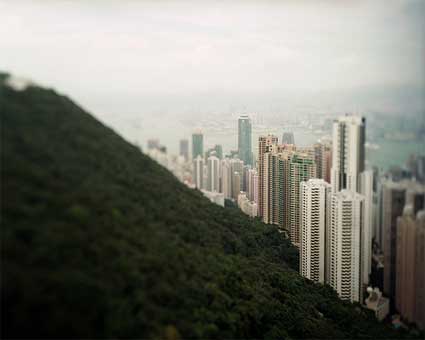 Patrick Messina, from the series «Ma petite Amérique», Courtesy of Label Expositions, Paris