Beautiful Rising. Creative Resistance from the Global South, edited by Juman Abujbara, Andrew Boyd, Dave Mitchell, and Marcel Taminato.
Publisher OR books writes: In the struggle for freedom and justice, organizers and activists have often turned to art, creativity, and humor. In this follow-up to the bestselling Beautiful Trouble: A Toolbox for Revolution, Beautiful Rising showcases some of the most innovative tactics used in struggles against autocracy and austerity across the Global South.
Based on face-to-face jam sessions held in Yangon, Amman, Harare, Dhaka, Kampala and Oaxaca, Beautiful Rising includes stories of the Ugandan organizers who smuggled two yellow-painted pigs into parliament to protest corruption; the Burmese students' 360-mile long march against undemocratic and overly centralized education reforms; the Lebanese "honk at parliament" campaign against politicians who had clung to power long after their term had expired; and much more.
Now, in one remarkable book, you can find the collective wisdom of more than a hundred grassroots organizers from five continents. It's everything you need for a DIY uprising of your own.


Zapatista Caravan, Chiapas and Mexico City, Mexico, 1994-1996
I keep on reviewing books about art and activism. The topic is all the rage right now. Unfortunately, many of the publications, discussions and events on the subject tend to stay at the surface of things, going for the spectacularly 'subversive', the in your face and the provocative. There are real gems here and there though. Beautiful Rising is one of them.
Beautiful Rising is not a 'coffee table' object. It's a manual, a toolkit for citizens who dream of grassroots movements that are effective, creative and compelling.
As for the Global South, it "is not a place. It's a way of talking about a diverse set of struggles: the uprising of the planet's people against neoliberal policies, at least, and against the capitalist system, at most."
The projects described and analyzed in the book come from Asia, Africa and Latin America. But they should inspire the rest of the world too. Wherever we live, we all have to contend with the hysterical aftermaths of the latest U.S. presidential elections, the rise of intolerance, the deepening of social inequalities, the destruction of our environment as well as various systems of repression and discrimination. Although some countries and people have it far worse than others, of course.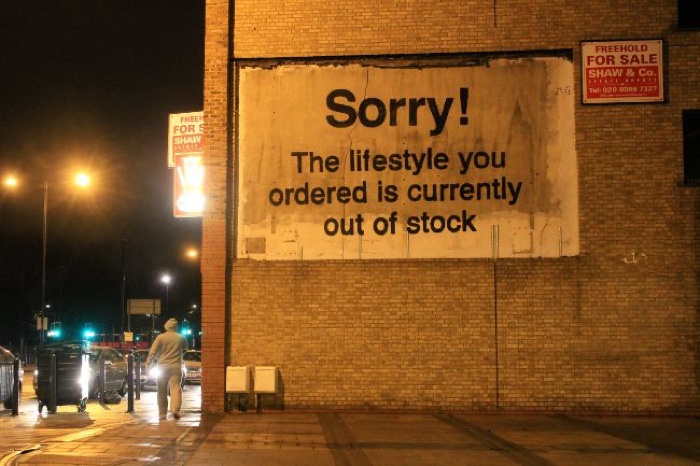 Banksy, Sorry, the lifestyle you ordered is out of stock in London, December 2011. Photo via creating clever
The authors of Beautiful Rising have identified five types of tools for social change that should be mixed and matches, customized and combined according to every specific context:
– Stories: accounts of significant actions and campaigns, with an analysis of what worked, what didn't and why.
– Tactics: the various types of creative actions and the potential risks they entail.
– Principles: the sets of rules to follow and/or adapt in order to design successful actions and campaigns. Because there's method and methodology even in disobedience.
– Theories: the section zooms out on concepts that provide a foundation context and help us understand how the world works.
– Methodologies: the practical bit with strategic frameworks and hands-on exercises to help assess your own situation and tailor a campaign.
Beautiful Rising is an energizing ode to civil disobedience. The stories of creative popular struggles might not all have a happy ending (many do though!) but they demonstrate that citizens have determination, imagination and humour, even in the face of brutal intimidation. As for the lessons to be found throughout the book, they build a picture of a South that needs solidarity not aid (or "NGO-ization" as the authors call it.) There's a lot we can learn by listening to one another.
Here are some of my favourite stories from the Beautiful Rising toolkit: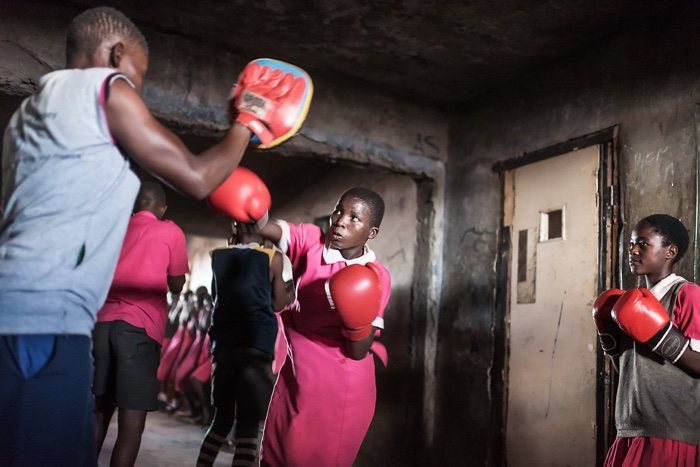 BoxGirls Kenya, at Kariobangi Community Center. Photo: Adam Daver
After Kenya's post-election violence in 2008, when many young women were sexually abused and traumatized, the organization Boxgirls Kenya used boxing to provide young women with an antidote to the shaming, stigma and fear that followed the brutality they had experienced. The sport is used as an entry point to discuss difficult topics related to sexuality and to violence against women.
The office also support girls with counseling, sanitary towels and, for those who can't afford food, the opportunity to participate in a small feeding program.
The Vula Connection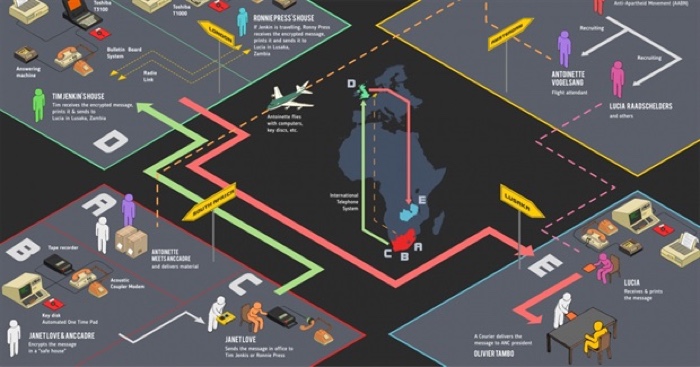 Infographic showing the African National Congress (ANC) communication network during apartheid. Infographic: Ariel Acevedo | CC BY-NC-SA
At the height of the anti-apartheid struggle, South African freedom fighters and hackers created an encrypted communication network that connected the leadership in exile with operatives in South Africa.


Traffic mimes in Bogota. Photo
Faced with a corrupt traffic police force as well as chaos and deaths on the roads, Bogota mayor, mathematician and philosophy professor Antanas Mockus fired 3,200 traffic cops and offered them the option to be retrained and hired back as mimes. 420 accepted the offer. They dramatized road maneuvers and mocked reckless drivers using only white gloves, expressive gestures and face paint. Traffic fatalities drop by over 50 percent.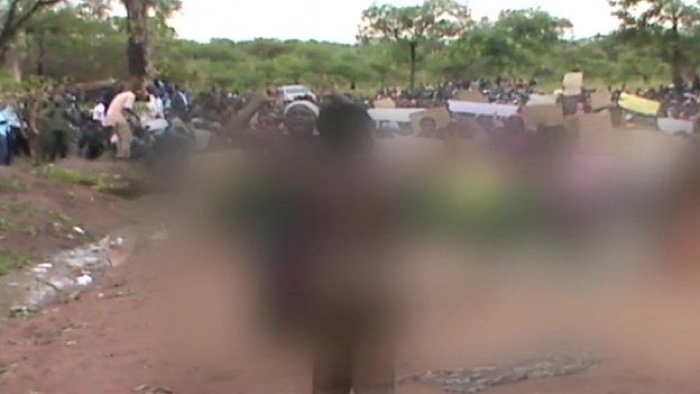 The Ugandan women who strip to defend their land, Apaa village, Uganda, 2015. Photo
Female elders in northern Uganda invoked powerful cultural taboos by removing their clothes in front of two government ministers who were attempting to evict people in Apaa Village by force, grab their land and sell it to a South African investor who was planning to use the territory for elite sports game hunting.
To block the ministerial convoy, the community put up a roadblock and local women stripped naked in front of government ministers, soldiers and policemen. The move invoked a powerful cultural curse in Uganda where it provokes deep shame to see a woman the age of one's mother naked.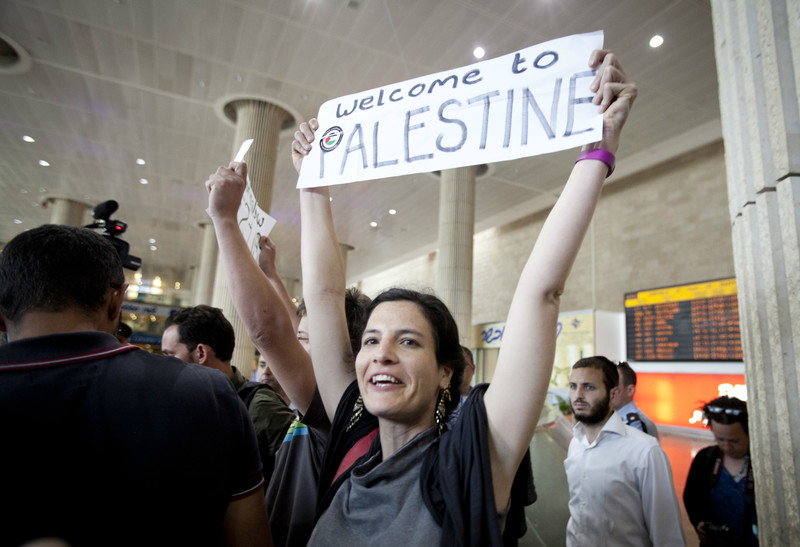 Israeli activists were arrested for holding "Welcome to Palestine" signs at Ben Gurion airport. Photo: ActiveStills, via electronic intifada
Israeli authorities can deny tourists the right to visit Palestine if they state their intention to do so at the border. To protest Israel's border policies, activists launched Welcome to Palestine, a campaign during which hundreds of international solidarity activists staged a "fly-in" at Ben Gurion airport demanding to visit Palestine.
In 2011, the first year of the action, more than 300 people from different nationalities took part. After arriving at the airport, activists peacefully unfurled "Welcome to Palestine" banners. Israeli police ripped down the signs and arrested activists. In 2012, following a "diplomatic" campaign by the Israeli government most of the 400 people worldwide who were set to fly to Palestine were denied boarding at their departure country.
The local and international media coverage exposed the Israeli regime of discrimination and repression.
Sofia Ashraf, Kodaikanal Won't
In 2015, South Indian rapper Sofia Ashraf and Vettiver Collective turned Nicki Minaj's "Anaconda" song into a protest against Unilever's mercury poisoning at its thermometer factory in Kodaikanal, Tamil Nadu. The environmental crisis has affected the health of workers and is still polluting local soil and groundwater. Ashraf's video went viral, giving 15 years of local campaign the international media coverage it needed. Intensified campaigning and a boycott of Unilever products forced the company to do the previously unthinkable: compensate Kodaikanal workers.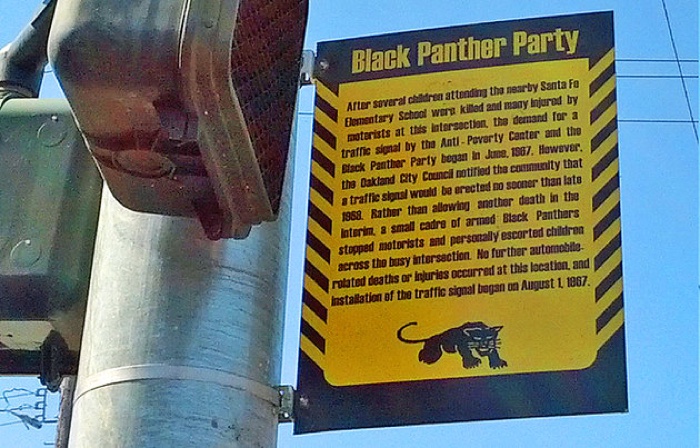 Sign in memory of the Black Panther Traffic Light's effort to protect school children against traffic incident. Photo: Eric Fischer
Tired of waiting for a traffic light to be installed near a historically "black" public school in Oakland, armed members of the Black Panther Party escorted children across the street before and after school until authorities finally intervened and installed a traffic light on 1 August 1967.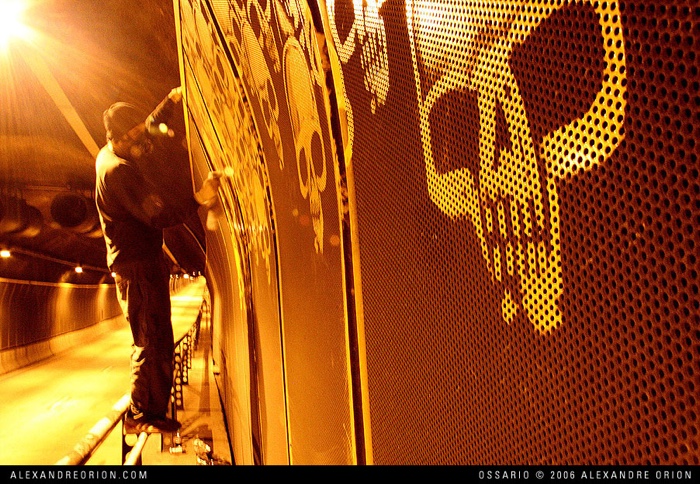 Alexandre Orion, Ossario, 2006
The walls of the Max Feffer tunnel in Sao Paulo were covered with grime and soot from engine exhaust. Thinking he couldn't be arrested for cleaning a public space, Alexandre Orion selectively cleaned parts of the walls through reverse graffiti. Local authorities had no choice but to clean all the walls in the tunnel, which had been Orion's plan all along.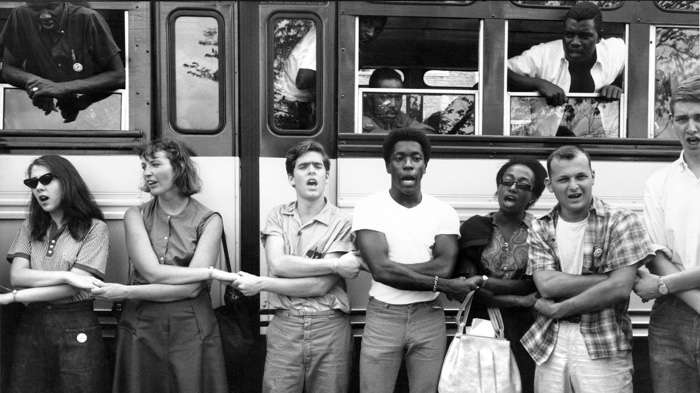 Freedom Summer activists sing before leaving training sessions at Western College for Women in Oxford, Ohio, for Mississippi in June 1964. Photo: Ted Polumbaum Collection/Newseum, via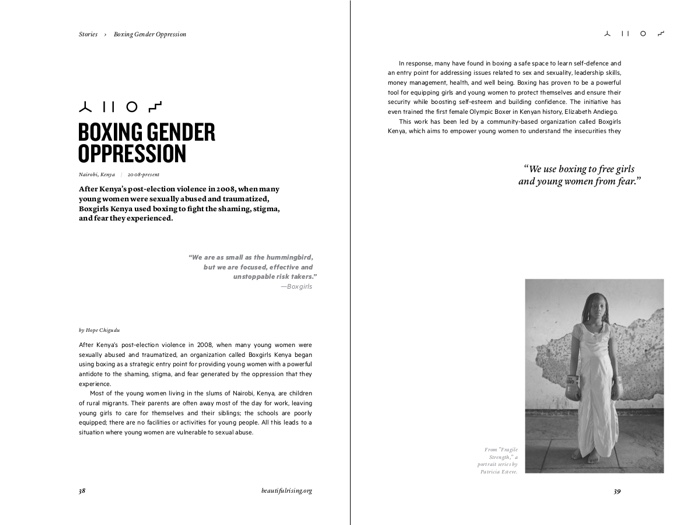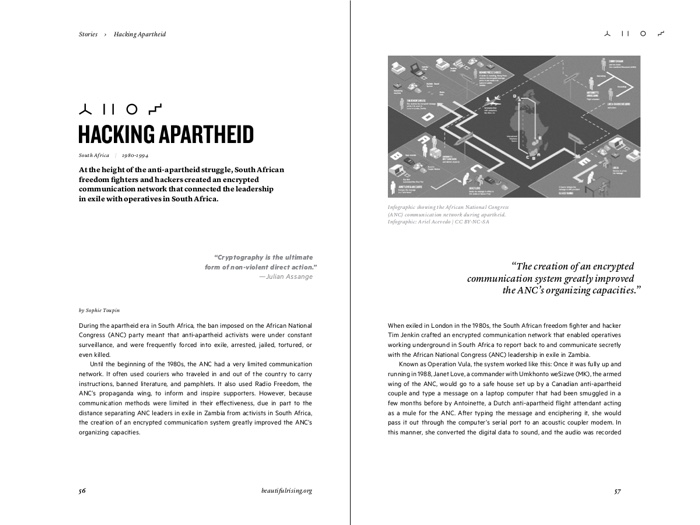 Photo on the homepage: Adam Daver, via Positive Magazine.