The Brussels Biennial has opened its first edition a few weeks ago. The programme is good. A bit severe but really good. However, the whole experience is laborious. The first venue we visited was so cold i almost took no picture afraid as i was to remove my gloves (Brussels i love you and that derelict Post Sorting Center was charming but if you can't afford to heat the place do consider to biennial us in the Summer next time, ok?) The second one was remarkably well hidden. Number three was a bit gloomy and the fourth venue was indicated on the Biennial map as 'the Central Station', easy peasy to locate the station but this is a big train station and where the artworks to see actually were remains a mystery to me.
It will be my pleasure to moan and curse in another post but let's focus this one on an art piece that got my attention.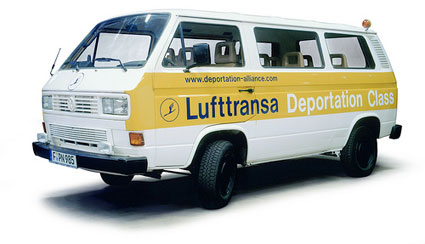 Silke Wagner, Buergersteig, 2001-2002
At the beginning of 2001 Silke Wagner bought a Volkswagen-van.
During one year, the artist drove her Bürgersteig (Pavement) project to three German cities. Her budget for the project was left at the disposal of local socio-political groups to customize the vehicle according to their needs and set up various projects in public.
The third stop of the van was Frankfurt am Main. There, Wagner cooperated with the Hanau activist group kein mensch ist illegal (no-one is illegal) to comment on the practice of deporting refugees and immigrants living illegally in Germany and examine it in the framework of the process of European integration (see Lufthansa Deportation Class brochure). Lufthansa is deeply involved in the deportation process. Germany deports between 30,000 and 35,000 people each year and more than one third are taking off from Frankfurt, making it the country number one airport for deportation.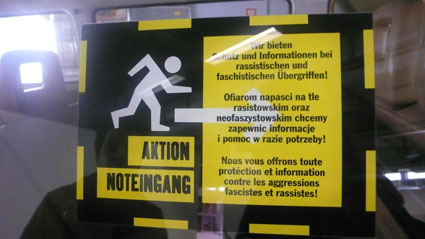 Sticker on the side of the van
The van was repainted to resemble a Lufthansa van marked with the words "Deportation Class". Different events were carried out in the bus, focusing on the deportation of refugees carried out with the help by the German airline: protests, handling of information leaflets, performances in the street, at the airport but also at a major cultural event such as the Frankfurt Book Fair. The only feature of the project brought to Brussels is the onboard radio that broadcasts the audio documentation of the project.
Lufthansa sued the artist to obtain that they stopped using the van but the airline company lost its case.
The Brussels Biennial runs until January 4, 2009.