Fabio Paris Art Gallery (from Brescia, Italy) was showing a couple of nice works at Artissima, such as Space LED, by Tonylight (see previous post.) My favourite piece at the booth was an eerie picture of a guy i though i'd recognized. He was dressed in white and was cautiously walking in the greenest fields you can dream of. Looked like Hans Bernhard from Ubermorgen to me ;-)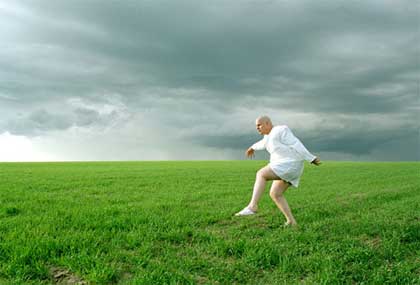 psychos_hans_02
The gallery's press release explained the work as follows: "Hans Bernhard is loaded with 10 years of internet & tech [digital cocaine], mass media hacking, underground techno, hardcore [illegal] drugs, rock&roll lifestyle and net.art jet set… Hans Bernhard's neuronal networks are connected to the global network, and his mental illness – the bipolar affective disorder that in March 2002 sent him to a mental hospital – is the network's illness." That experience, in which those two levels – digital and real, bio & tech, nervous system and operative system – merge is summed up in several works, Psych|OS – Hans No. 02 is one of them.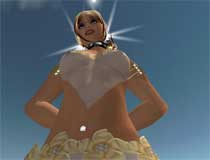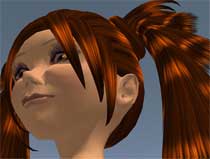 At some point i heard the gallery owner talk about the artists he was representing. Adorable. Like a dad who's dead proud of his kids. He was particularly delighted to explain visitors the latest project of Eva and Franco Mattes (a.k.a. 0100101110101101.ORG), a portrait series of Second Life avatars they made after having lived in the virtual world for over a year. Btw, the 01.org are presenting "13 Most Beautiful Avatars", a Second Life portrait series, at Second Life's Ars Virtua gallery, as part of rhizome Time shares exhibits, on November 15 – December 29, and a "real life" show at the Italian Academy will run November 30 – December 19.
SL is very trendy these days, the Jen Bekman gallery's current exhibition is called Photographs from the New World. The work, by James Deavin, documents user-generated landscapes in Second Life. In New York until December 9, 2006.