An art fair is not the best place to discover works related to science, technology or politics. And when there are indeed such works on offer, they are not easy to spot. Galleries exhibiting at art fairs don't usually accompany the artwork with a text explaining what the piece is about. In fact, several galleries don't even write down the name of the artists they exhibit. You have to go and ask them. Which i do when i'm desperate but most of the time, i just want to keep on walking from gallery to gallery (there were 172 of them this year at Artissima) and see the rest of the show before my head explodes.
I did however, spot a few gems at the latest edition of Artissima.
Taisia Korotkova, Delivery Simulator. Triumph Gallery, Moscow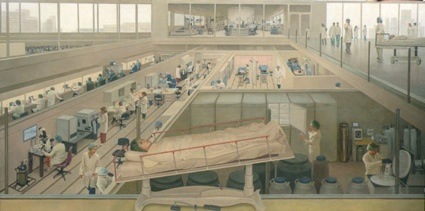 Taisia Korotkova, In Vitro Fertilisation laboratory. Triumph Gallery, Moscow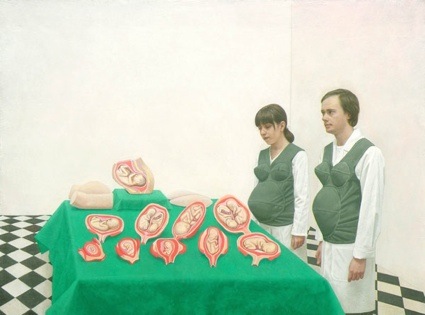 Taisia Korotkova, Models
The paintings of Taisia Korotkova immediately got my attention. There is something odd and slightly off-putting in the way she portrays childbirth. In the Reproduction series, Korotkova combines her impressions of her recent stay in the hospital with imagery of recent technology for artificial insemination. the intimate subject of child perception is tripped bared from any privacy by depicting the process as purely scientific, hightech and machine based. The anti-utopist Korotkova stresses that she recreates the already observed with sharper edges, while her style is reminiscent of optimistic illustrations of the 1960s with the cold pastel tones.
Korotkova paints her modern icons in the technique of traditional icon painting in tempera with a dip of humanized social realist painting.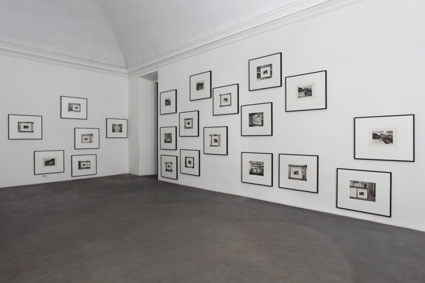 Simon Starling, By night the Swiss buy cheap-rate electricity from their neighbours which they use to pump water into holding reservoirs. By day they use the stored water to generate hydroelectric power which they then sell back to their neighbours at peak-rate proces. (After Christopher Williams/After Jean-Luc Godard), 2005
The Castello di Rivoli was showing a black and white photo by Simon Starling. As its ultra long title suggests, the work is inspired by Christopher Williams's seven photographs of the Grande Dixence, the Swiss dam where Godard shot Opération Béton (Operation Cement). I'm mostly copy-pasting the description provided at the fair (the Castello di Rivoli is a museum, hence the magnanimous addition of information): Starling re-photographed Williams's shots and exhibited them with a title that describes how Switzerland profits from the resale of energy. Actually, the work is based on a stratagem that Switzerland carries out, buying electrical energy at night from nearby countries, at a low cost, then using that energy to pump water into the dam's holding reservoirs, generating hydroelectric energy, which is then resold by day at a higher price to those same neighbouring nations. Taking his cue from this small escamotage, or evasion, the artist carried out an analogous action that, through his appropriation of Williams's photos, causes his work to take on an already substantial value, which he then increases by printing these same images using a platinum rather than silver salt process – the former being a much more costly process than the one originally used. In this way Starling adds the material value of the means employed to the 'artistic' valie of the acquired photographs, infusing Williams's work with new meanings and adding another stage in the object's evocative path.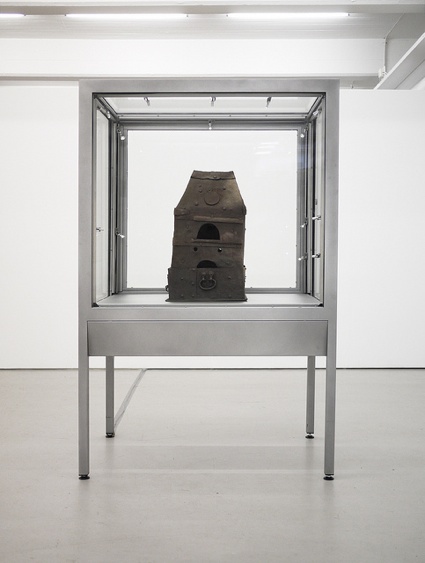 Goldin+Senneby, Money Will Be Like Dross, 1780s/2012
In the 1780s mineralogist August Nordenskiöld was employed by the Swedish king Gustav III to discover the legendary alchemical substance Philosopher's Stone and turn base metal into gold. The gold was intended to finance Sweden's military and economic expansion, but Nordenskiöld had a different agenda, he aimed to produce so much gold that its value would be lost and the "tyranny of money" abolished. One of the few remaining artifacts from Nordenskiöld's laboratory is a coal burning alchemy furnace.
In the project The Nordenskiöld Model, Goldin+Senneby (a duo of artists as elusive as an offshore company and who have been exploring the abstract nature of money for several years) explore the relation between contemporary finance and Nordenskiöld's utopian ideals and alchemical experiments.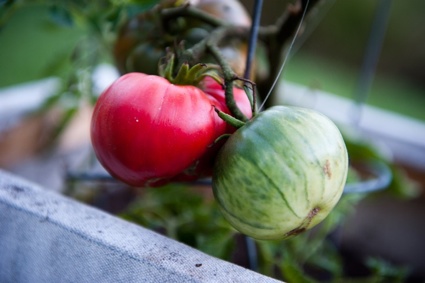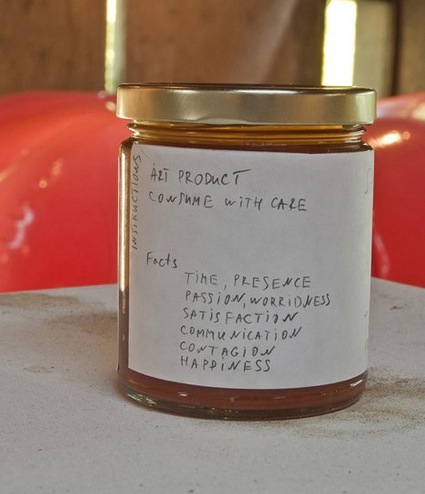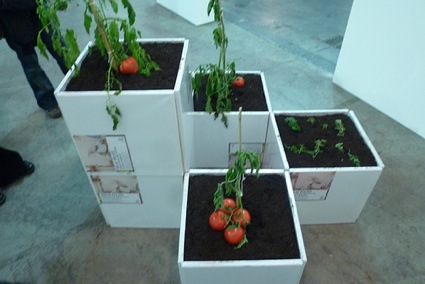 Kamen Stoyanov, Tomato Plants in White Cubes. At Galleria Astuni
Kamen Stoyanov's Tomato Product takes forms and ideas from the physical to the virtual and back. The work started with a very literal take on the Facebook game, Farmville, in which players receive a small piece of land to grow virtual crops and raises livestock. The artist used the garden of a historically significant building in West Hollywood (a city associated with an 'unreal' lifestyle) to grow tomatoes. Each plant pot measures 12×12 inch, the size of land ones get starting to play Farmville. Stoyanov also prepared tomato soup, canned it, added a label and put it on display, as a reference to Andy Warhol.
And a happy new year to you, dear readers!
Previously: Artissima 2013 – the photos, Arnold Odermatt, policeman photographer and Artissima – Valerio Carrubba..