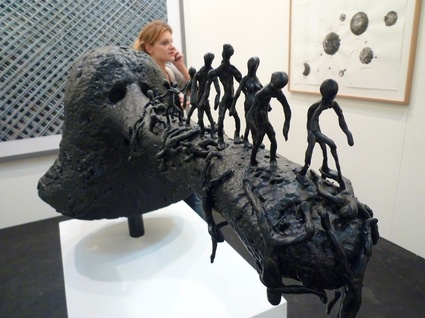 Atelier van Lieshout, Course of Life, 2009 (Galerie Krinzinger)
Spain has ARCO in Madrid, France FIAC in Paris, the UK do Frieze in London, Germany has Art Cologne and art forum in Berlin, etc. But what is the main contemporary art fair in Italy? Do sit down please because the list is getting longer. There's a contemporary art fair in Bologna, one in Milan, in Bolzano, in Verona. And then there's Turin. Surely there must be one in the South of the country but i don't think i've ever been told about it. I only go to Turin, not just because i have the misfortune to live there, but because Artissima, which closed a few weeks ago, never disappoints me. It is decidedly the edgiest and most exciting contemporary art fair in the country. In fact, you'd almost think that people come here because they love art, not just because they want to buy, invest and speculate.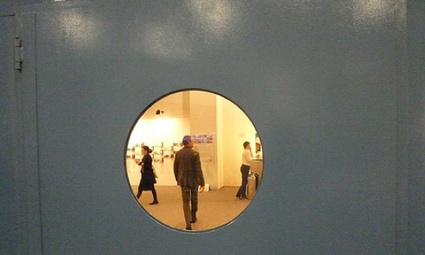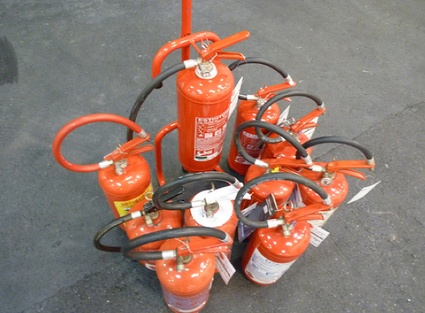 There were feisty gatherings of fire extinguishers in every corner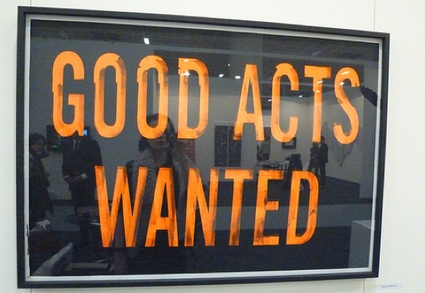 Over 45,000 visitors visited the fair and the sales went fairly well (at least that's what you tend to hear and read in times of crisis.) Not everybody was ecstatic though. There was the scandal of the catalogs (one of them compiles interviews with gallery owners some of which were not present at the fair and were therefore not contributing to the financing of the catalog printing, the gallery owners who had not been interviewed for the booklet felt they had been cheated), others lamented Turin's decision to focus many of the city's art events in November, with the effect that collectors and visitors had less time to spend at the fair than gallerists might have hoped.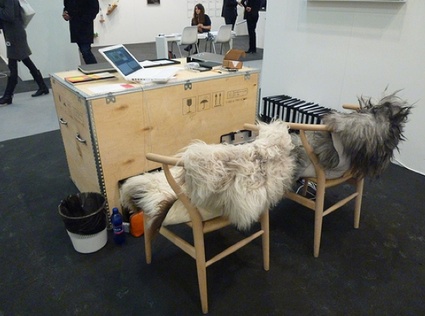 As i mentioned a few weeks ago, the fair had the objective of being affordable, introducing young artists at "prices you can buy." The definition of 'affordable' being open to debate, Artissima opened THE STORE, a shop curated by Adam Carr, at the back of the exhibition space. Plebeians like you and me could snap a poster, bag, lollipop, video, postcard, mug or balloon for 0 to 450 euro (i was told you were even allowed to bargain) by artists such as Nina Beier, Stella Capes, Tomas Chaffe, Claire Fontaine, Ryan Gander, Liam Gillick, Loris Gréaud, Arunas Gudaitis, Henrik Plenge Jakobsen, Jonathan Monk, Paola Pivi, Mario Garcia Torres, etc. I got the Jonathan Monk bag with the press kit so i'm as happy as a clam (never inquired about the degree of felicity of a clam but i found the expression on google and thought it sounded adequate.)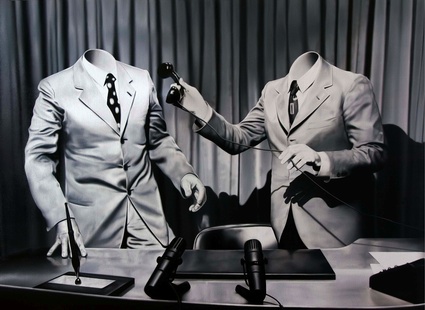 Thorsten Kirchhoff, Ipnoinducente, 2009 at the booth of Alberto Peola
Now I'll just throw a few pictures and artworks at your face, go back to my "English Period drama tv series" viewing and come back to you tomorrow with a post focusing on the photographic works i discovered at Artissima.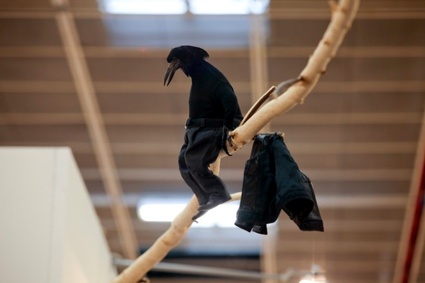 Kristof Kintera, I see, I see, I see, 2009 at the Jiri Svestka booth. Photo Artissima
The entrance of the fair was particularly eye-catching thanks to the Constellation section which presents a museum-style selection of installations, sculptures, videos, and large-format works selected by Heike Munder, from the Migros Museum Für Gegenwartskunst, Zurich. I only paid attention to it at the end of my visit when i saw these alpine lads falling half-asleep during a dancing marathon on a rotating podium: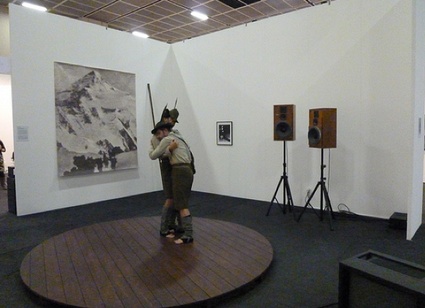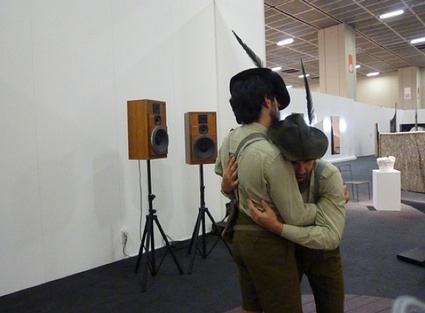 Seb Patane, Absolute Körperkontrolle, 2006. Maureen Paley, London – Fonti, Napoli
Stas Volyazlovsky's artworks are painted on bed-sheets, pillow-cases and towels dipped into a strong tea which is very popular among inmates of Russian prisons. They figure Pushkin, Hitler, "lolitas", mutant nurses and Dracula among obscene words and motives that remind criminal tattoos.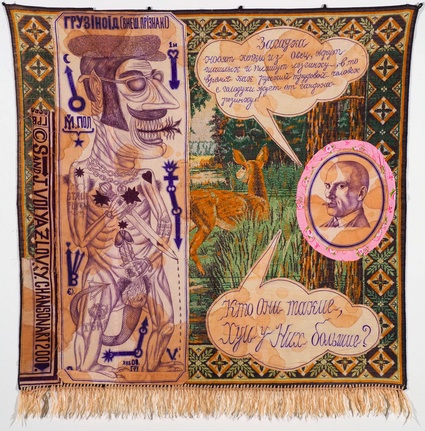 Stas Volyazlovsky, Carpet 1, at the Gallery Regina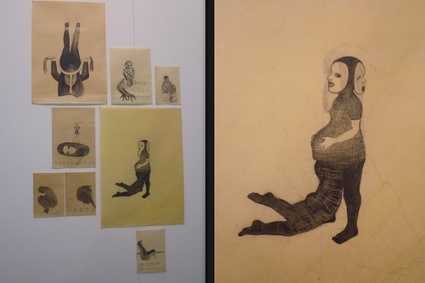 Sandra Vásquez de la Horra, at Sprovieri's booth
Naïma Bourquin, Johan Wacquez, and Vassili Lavandier are three fictive persons. Artist Jonathan Delachaux sculpts then photographs them for the realization of his paintings. Everything in the painting is very realistic. Except the characters, they retain their eerie puppet appearance.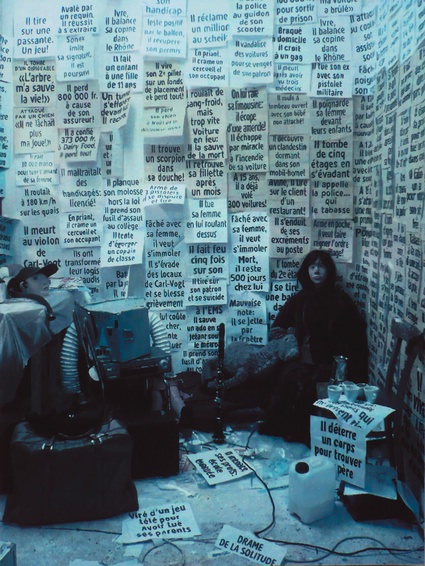 Jonathan Delachaux, La nouvelle chambre de J.W., at New Galerie de France
Carsten Höller reminded us that he was trained as a biologist by filling a series of vitrines with Doppelpilze (Double mushrooms). Each replica of mushroom was halved and then coupled with a different kind of mushroom.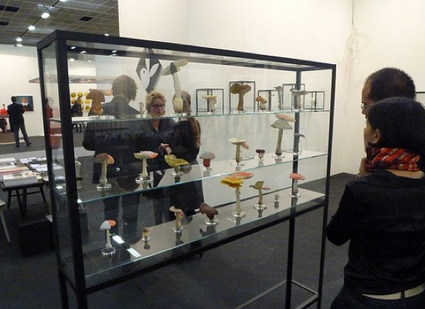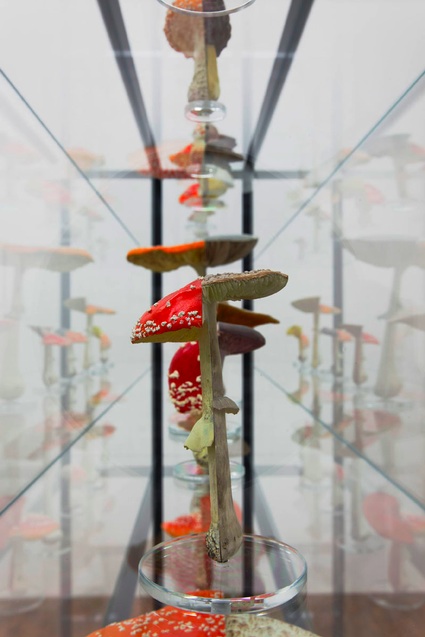 Carsten Höller, Doppelpilzvitrinen, 2009 (Detail) at Esther Schipper
Amusingly, this slot machine which seemed to work like your usual slot machine was defined "an interactive sculpture." You'll notice an artwork featuring skulls just behind this -now that i think of it- rather uninspiring 'interactive sculpture'.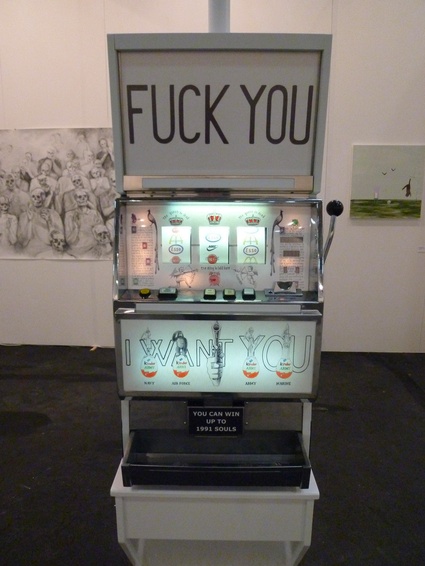 Giuseppe Stampone, Passepartout automatico, 2009
I saw an awful lot of skulls at Artissima.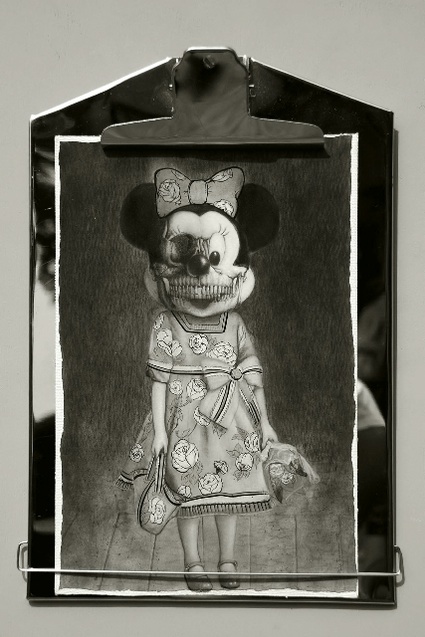 Ronald Ventura, Untitled, 2009. At the Primo Marella gallery booth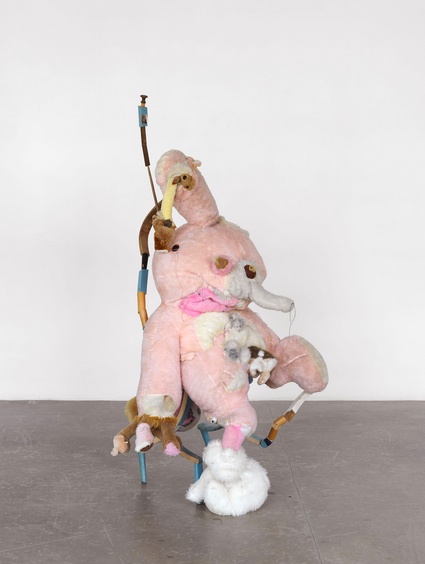 Gelitin, Untitled, 2007. Gallery Massimo de Carlo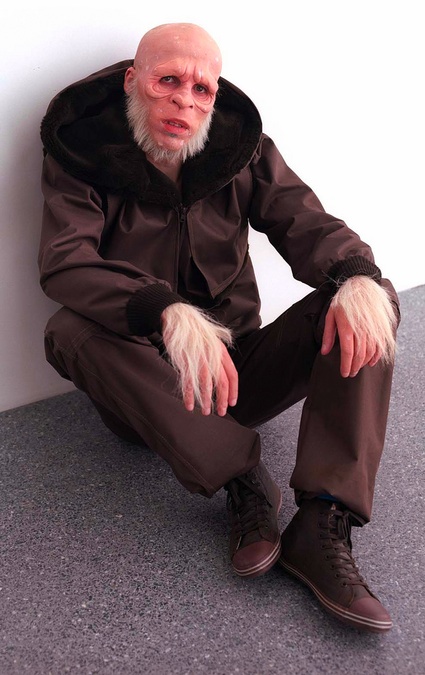 Michael Fliri, From the forbidden z, at the Raffaella Cortese gallery
See you tomorrow!
Picture on the homepage: Seb Patane, Absolute Körperkontrolle, live audio-visual mixed media installation, 200. Courtesy Maureen Paley, London and Galleria Fonti, Naples
installation shot from While Interwoven Echoes Drip into a Hybrid Body, migros museum für Gegenwartskunst, Zurich, 2006.