Funny how i am always reluctant to spend one hour and a half in a train to check out some exhibitions in Milan but would not think twice about taking the plane to Barcelona or Valencia and have a short(-ish) train ride on top of that just to go to Castellon. I've never really toured Castellon. I have no idea whether there is a castle, i never visited the Gothic Concatedral de Santa Maria, i was told the beach is pretty neat but never saw it, not even from afar. All i come to see is EACC. Opened ten years ago, the Espai d'art contemporani de Castelló / Castellon's Contemporary Art Space initially focused its mission on the debate and the diffusion of recent artistic practices through a program of thematic exhibitions and activities that include music, cinema and workshops. EACC doesn't take its location in a city most of us had never heard of as an excuse to explore only the hackneyed and revel in safe names. Its programme is edgy, inspired and adventurous. Recently they had a retrospective of John Cage's work. The next show will be dedicated to the one of the few artists who saved the last edition of Documenta for me: Saâdane Afif.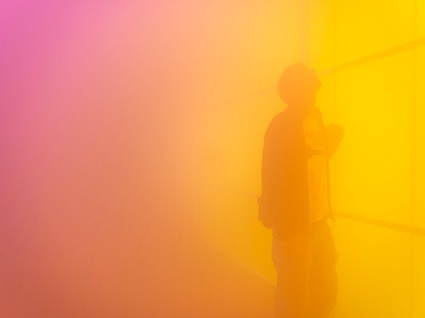 Photographer credit: Pascual Mercé
A few weeks ago, EACC opened Are You Experienced?, a series of three installations by Ann Veronica Janssens. Sometimes described as 'sensorial environments', 'immaterial sculptures' and 'spatial abstractions', her installations are the result of a carefully-studied transformation of the space. Each of them uses different strategies to play with visitors' perception.
The night of the opening, people were queuing in front of a big translucid box installed on the esplanade in front of the EACC. Vapour was escaping from the door each time someone would get in or out of the container. It's the Blue, Red and Yellow pavilion, a proposal consisting of a volume built with metal whose polycarbonate walls form cells covered by transparent films in blue, red and yellow. But no one tells you that. You get inside the tank and wonder what is happening around you. Bodies get lost in the mist, voices are lowered, you walk carefully through a dense coloured mist that changes hue according to your position. You can hardly distinguish your own hand, let alone the shadowy outlines of other people. They simply vanish. The only things that seem to be tangible are light and colours.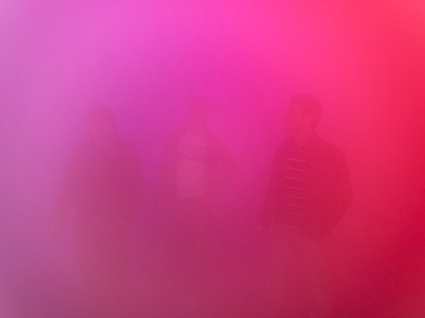 Photographer credit: Pascual Mercé
Inside EACC, Janssens designed two side-specific and apparently minimalist interventions: one based on sound and the other on light. Colours, visual light and sound effects, are combined to both re-purpose the architecture of the space and appeal to visitors' senses.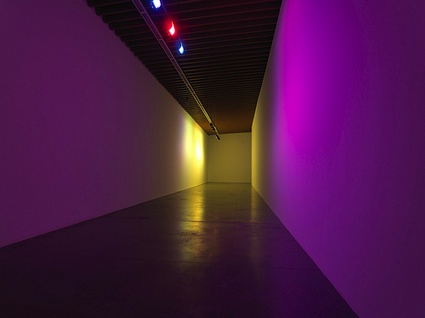 Photographer credit: Pascual Mercé
As the artist herself has said, the situations she creates are not reducible to (more or less spectacular) formal effects "but must be perceived in a context that could be considered political. They occur, for the most part, in a public space without imposing a fixed form or being directly prehensile. They are ephemeral sculptures whose action consists of being dispersed in a given space, infiltrating this space rather than imposing upon it. In effect, I investigate the permeability of contexts (architectural/social/cultural/political) even as I propose a form of deconstruction that fragments our perception of these contexts".
Using only intangible means – humidity, sound and light, fleshed out with colour or softened by mist – the artist manages to shape the spectacular, to give borders and boundaries to the awe-inspiring.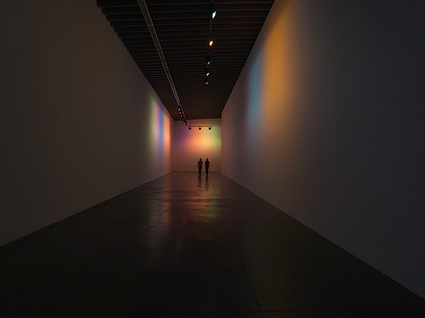 Photographer credit: Pascual Mercé
Ann Veronica Janssens interviewed by Michel François.
On view at the EACC until March 29, 2009.
two hour ride from Barcelona and a mere one hour-something ride from Valencia
Previously at EACC: REACTIVATE!! Part 1, Urban reanimations and the minimal intervention; REACTIVATE!! Part 2, Instant urbanism; Reactivate!! Urban refuges and atomized garden.