I'm sad to read that the The Fondazione Sandretto Rebaudengo which remarkable programme of exhibitions i've regularly covered in these pages has had to postpone the opening of Le Ali di Dio (The Wings of God), the first Italian exhibition dedicated to Adel Abdessemed.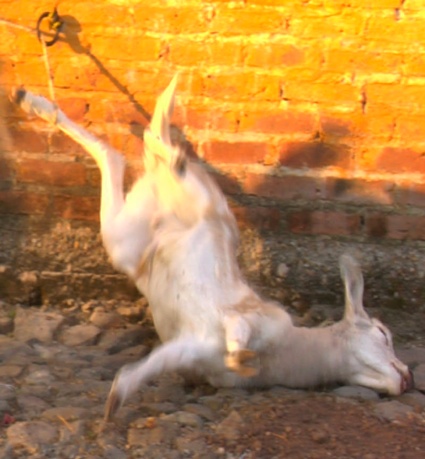 Still from the video Don't Trust Me
Pressures and complaints about the video installation entitled Don't Trust Me, which documents the practices of butchers in the Mexican countryside, prevented the art space to open the exhibition according to the original plans.
Six television screens show video images of six tethered animals – a sheep, a pig, an ox, a horse, a goat and a doe – being killed by workers with a sledgehammer. When the show opened at a San Francisco gallery last year it was shut down within four days after Abdessemed and gallery staff received death threats from activists describing the installation as "animal snuff videos". These videos were shot in a Mexican slaughterhouse where animals are raised in order to be turned to meat and eaten.
Art curator Francesco Bonami reacted: "Contemporary art that talks about violence doesn't impose violence upon us but asks anyone who has decided to cross the threshold of the exhibition space to reflect on violence and its various nuances, from the ones of the animal world to the ones of human beings. The art of Algerian artist of Berber origin Adel Abdessemed does not try to provoke, it simply talks about responsibility and violence of life.'
The images of the videos are taken out of context and that's probably and very understandably what disturbs protesters but i believe that The Fondazione Rebaudengo would have shown the videos in the most delicate and informed way. I'm quite sure i would not have the guts to watch the videos (i can't even stand the sigh of a piece of meat in my bf's plate) but it pains me to see that an artist is being censored for documenting an action that takes place almost all over the world every single day so that people can enjoy their burger, their 'prosciutto crudo' or their 'albese'….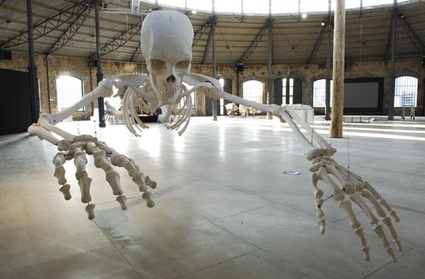 Adel Abdessemed, Abibi. Image
Adel Abdessemed – The Wings of God was due to run at the FSRR from Wednesday until May 18.