This is Giulio Andreotti, a legend in Italian politics: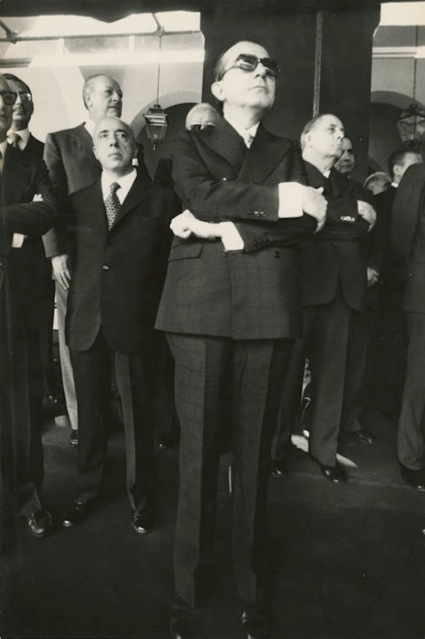 Giulio Andreotti, Rome, 1970s © TEAM Editorial Services/Alinari
For almost half a century, Andreotti occupied all the major offices of state. He held the post of prime minister 7 times and for longer than any other postwar Italian politician except Silvio Berlusconi. Andreotti was not as farcical as Berlusconi though but he was every bit as shrewd as a Borgia. He was involved in most political corruption scandals, was tried for mafia association and has also been accused of being involved in a variety of conspiracies related to high profile assassinations, massacres and banking crimes. In his 2008 film, Il Divo: La Straordinaria vita di Giulio Andreotti, director Paolo Sorrentino, highlighted the responsibility of Giulio Andreotti in the kidnapping of Aldo Moro, former prime minister and then president of Christian Democracy (Italy's relative majority party at the time). Sorrentino is not the only one to hold that suspicion. Many believe that Moro was the agnello sacrificale, the sacrificial lamb who had to be executed because of his efforts to include the Communist Party in a coalition government.
On 16 March 1978, Moro's car was assaulted by a group of Red Brigades terrorists in Rome. His corpse was later found in the trunk of a Renault 4 after 55 days of imprisonment.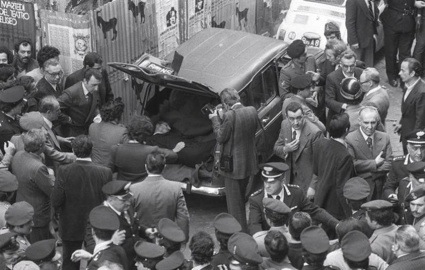 9 May 1978: Aldo Moro's body is found in via Caetani, Rome in the trunk of a Renault 4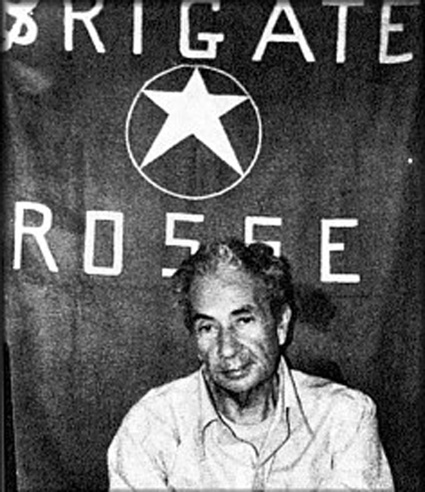 Moro, photographed during his kidnapping by the Red Brigades
Andreotti, Moro but also Andy Warhol, Federico Fellini and many others appear in Amore e Piombo: The Photography of extremes in 1970s Italy, one of the exhibitions of the Brighton Photo Biennial. Amore e Piombo means Love and Lead. Lead as in the anni di piombo, the tumultuous years of social conflict and acts of terrorism carried out by right- and left-wing paramilitary groups in the Italy of the 1970s. Now the Amore comes with the glamour of Cinecitta and the stars photographed by paparazzi in the streets of Rome. Two worlds poles apart that characterized Italy in the 70s and were documented by a group of photographers working for the agency Team Editorial Services.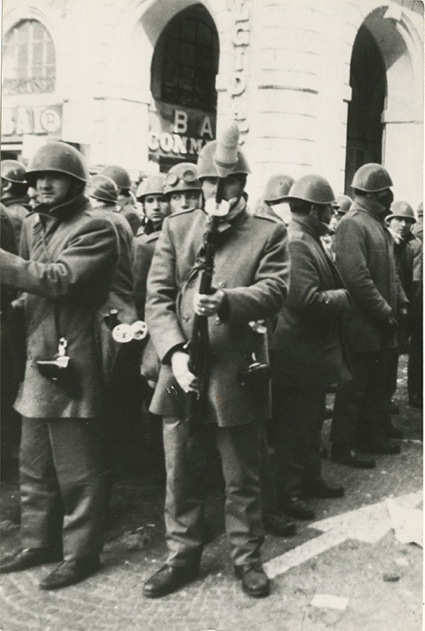 Specialist anti-riot police unit Cellere, 70s
The press photographers constantly shifted between battling film stars at play and the reality of near civil war unfolding on the streets. Politics and celebrity are brought together through the paparazzi style of alto contrasto, collusion and intrusion. Alluded to, although less visible, are the murkier dealings of clandestine groups linked to the Italian Secret Services, The P2 Masonic Lodge the CIA and NATO, operating against the backdrop of the extremes of the Red and Black Brigades. Archive prints are presented alongside television news footage, film sequences and sound recordings. A choice of Italian photo-books of the period, loaned from the Martin Parr collection, add a further layer of reference.
Amore e Piombo is an exhibition as fascinating and enigmatic as the years it portrays. Don't miss it if you're in or around Brighton: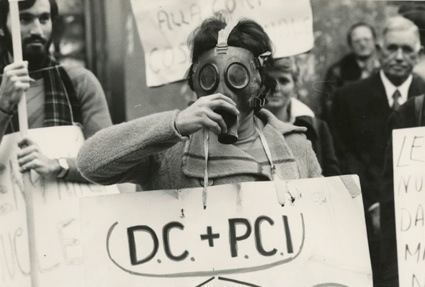 Demonstration against the Historic Compromise, alliance of the Christian Democracy (DC) and the Italian Communist party (PCI), Rome, 70s All photographs: Alinari Courtesy The Archive of Modern Conflict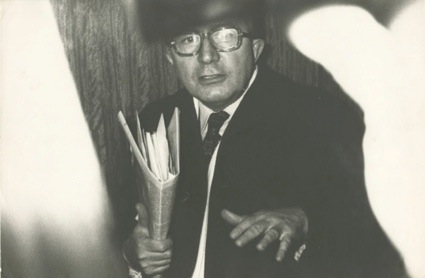 Giulio Andreotti in the early 70s during his first time as prime minister of Italy and leader of the Christian Democrats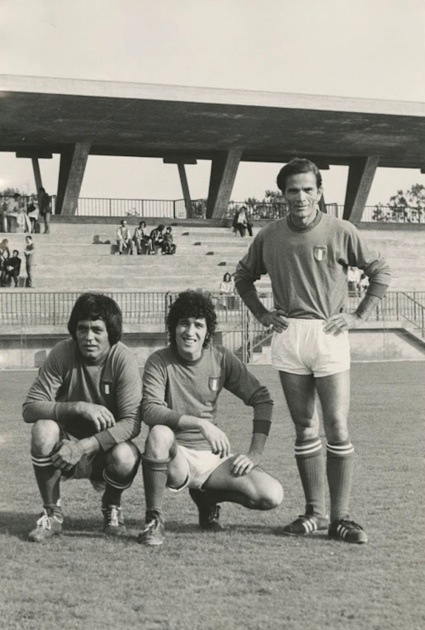 Actors Ninetto Davoli and Franco Citti with director Pier Paolo Pasolini (standing) in an actors' football team, 70s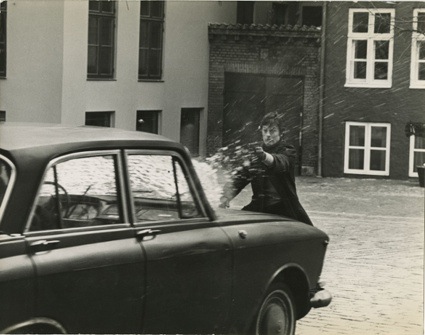 French actor Alain Delon on an Italian film set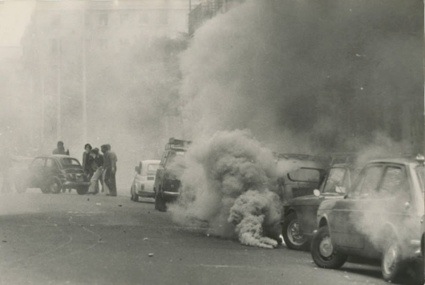 Clash between police and far-left protesters, Rome, 1977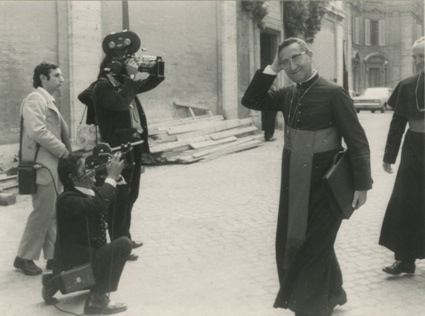 Avelar Brandão Vilela, Brazilian cardinal of the Roman Catholic church, 1970s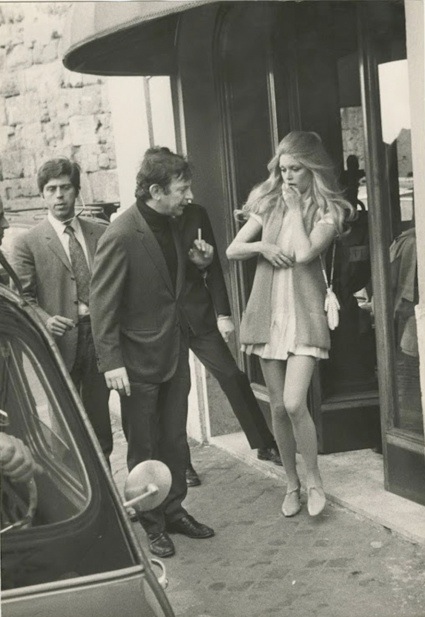 Brigitte Bardot in Les Femmes, directed by Jean Aurel, Rome, 1969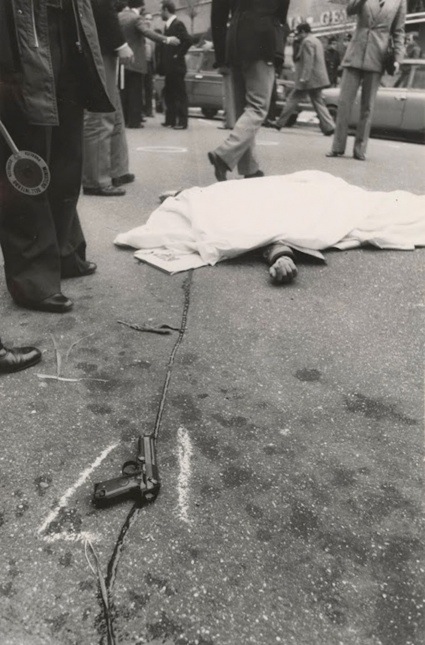 A police bodyguard lies dead after Red Brigades ambush and kidnap Aldo Moro, via Fani, Rome, 16 March 1978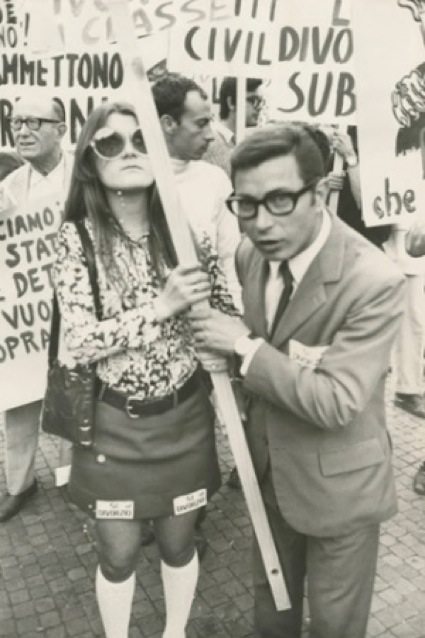 Pro-divorce demonstration in advance of the divorce referendum, 1974
Views of the exhibition space: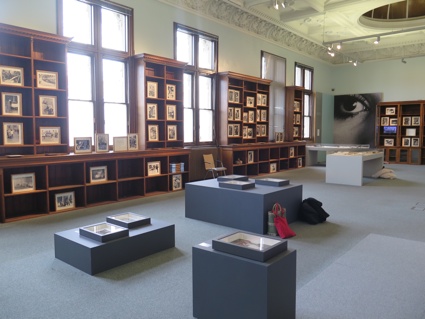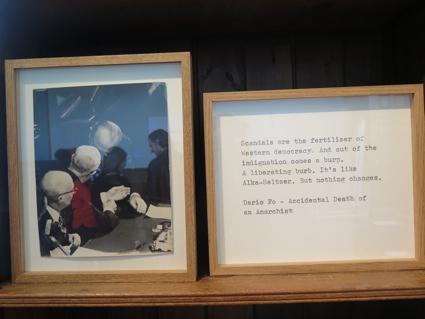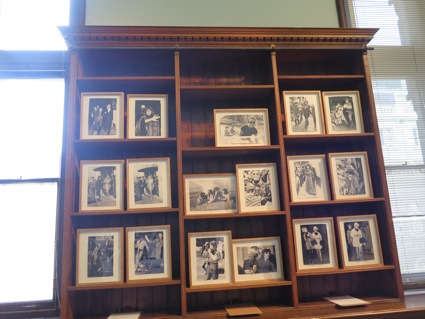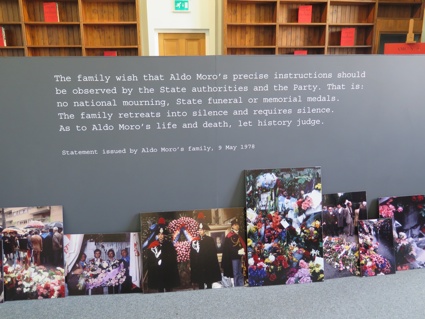 The Guardian has more images.
Amore e Piombo: The Photography of extremes in 1970s Italy was co-commissioned by the Archive of Modern Conflict and Photoworks, curated by Roger Hargreaves and Federica Chiocchetti. It is open until 2 November at the Brighton Museum & Art Gallery.