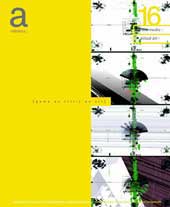 The 16th issue of aminima is dedicated to computer games.
As usual, Andrea and her team have managed to gather an amazing amount of superb texts (in english) and clever writers:
Laura Baigorri discusses Game as critic as art; Joan Leandre, Brody Condom and Anne-Marie Schleiner write about Velvet-Strike and France Cadet about SweetPad; Domenico Quaranta talks with Cory Arcángel; there are articles by Molleindustria, Arcángel Constantini, Margarete Jahrmann and Max Moswitzer, Jodi; Alex Galloway has a story about Warcraft and Utopia; the sexiest geek in the galaxy, aka Marta Peirano, writes about Political games; Jillian McDonald presents Stand by your guns and Ricardo Miranda Zúñiga his Vagamundo project and there are many many others texts.
I discovered the magazine a year ago at an art fair, i bought an issue because i was curious and came back the day after to buy all the other issues available at the booth. The amount of ads is surprisingly low, the magazine is clearly a labour of love and its issues can be found fairly easily in Spain. For those living outside Spain, there's the possibility to order the bi-monthly magazine by contacting aminima at aminima dot net. Os lo recomiendo.