It's back! After a Summer/early Autumn break, #A.I.L – artists in laboratories, the weekly radio programme about art and science i present ResonanceFM is on air again. Starting today Tuesday 6th November at 4:00 pm. There will be a repeat on Thursday 8th November 10:30 pm. You can catch it online if you don't live in London.
My guest this week is Neal White. Neal is Associate Professor of Art and Media at Bournemouth University and the Director of Emerge – Experimental Media Research Group, a practice-based initiative which is developing critical, creative and technical experiments in media. But the reason why i invited him to the studio of Resonance FM is his activity at the Office of Experiments, a structure that explores, maps and records the advanced labs and facilities that are – on purpose or not – concealed from public view. You can find these records on a website evocatively called Dark Places.
I interviewed Neal White a few months ago already so our radio conversation focuses on what happened a couple of months ago when The Office of Experiments and The Arts Catalyst took members of the public on a 'critical excursion' to discover and study these Dark Places from up close. Called Experimental Ruins: West Edition, the event invited Londoners to discover little-known places of scientific secrecy and technology in the West London corridor.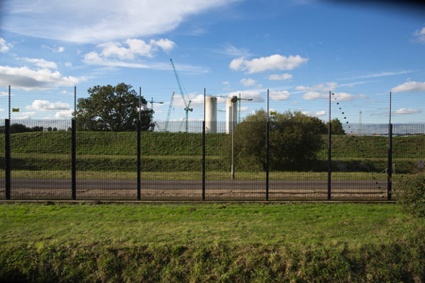 Experimental Ruins, West London Edition, Sept-Oct 2012. Image by Bradley L. Garret
We will be talking declassified materials, underground bunker housing alternative Cabinet War rooms, cold war archive footage, Atomic Weapons Establishment, sites used by the UK Nuclear peace protestors, etc. I'd tune in if i were you.
Previously: Dark Places and experimental geography – Interview with Neal White. Image on the homepage via Dark Places.