The new episode of #A.I.L – artists in laboratories, the weekly radio programme about art and science i present on ResonanceFM, London's favourite radio art station, is aired tomorrow Wednesday afternoon at 4pm.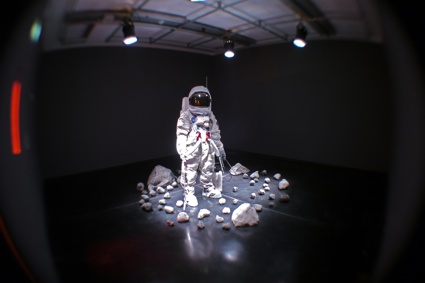 We Colonised The Moon, Enter at Own Risk
In this episode i'm going to catch up with the ever astute and cheerful Sue Corke and Hagen Betzwieser from WE COLONISED THE MOON.
Their installation, performance and graphic works seek to demonstrate that the future may indeed be frightening, but also highly entertaining. Previous projects have included creating solutions for space waste by disguising satellites as asteroids, building a solar powered solarium because 'the sun dies anyway', synthesising the smell of the moon and embedding it into scratch and sniff cards. So we're going to talk space colonisation, moon smell patent and their current residency at the Republic of the Moon.
The radio show will be aired this Wednesday 29 January at 16:00, London time. Early risers can catch the repeat next Tuesday at 6.30 am. If you don't live in London, you can listen to the online stream or wait till we upload the episodes on soundcloud one day.