The new episode of #A.I.L – artists in laboratories, the weekly radio programme about art and science i present on ResonanceFM, London's favourite radio art station, is aired tomorrow Wednesday afternoon at 4pm.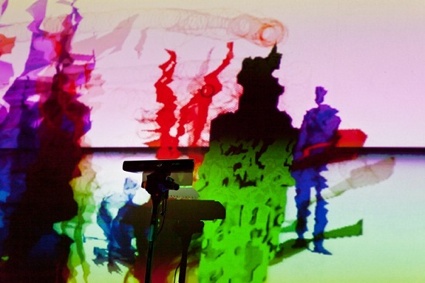 me and my shadow at the National Theatre in London. Photo credit JP Berthoin, via body>data>space (and via)
My guest in the studio will be Ghislaine Boddington, an artist researcher, dramaturge, curator and thought leader specialising in body responsive technologies. Ghislaine is also recognised as an international pioneer in full body telepresence. A co-director of the Creative Guild, she is a Fellow of the Royal Society of the Arts and an Artist Research Associate at ResCen, Middlesex University since 1999. but the reason why i invited her in the studios of ResonanceFM is that Ghislaine is also the Creative Director of body>data>space, a collective of artists and designers that looks at the future of the human body and its real-time relationship to evolving global, social and technological shifts.
In this episode, we will talk about experiences in telepresence, digital culture in London and gender (im)balance in tech careers (believe it or not, we're still there!)
The radio show will be aired this Wednesday 22 January at 16:00, London time. Early risers can catch the repeat next Tuesday at 6.30 am. If you don't live in London, you can listen to the online stream or wait till we upload the episodes on soundcloud one day.
Image on the homepage: ATMOS // Outreach : Crystallising Movements.