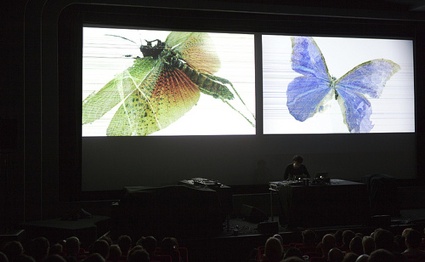 Alpha-ville & BFI present Ryoichi Kurokawa, syn_ . Photo by Federica Landi
The new episode of #A.I.L – artists in laboratories, the weekly radio programme about art and science i present on ResonanceFM, London's favourite radio art station, is aired tomorrow Wednesday afternoon at 4pm.
My guests in the studio will be Carmen Salas and Estela Oliva, the founders of Alpha-ville, a London-based organisation with a mission to connect people working in the fields of art, technology, design and digital culture. Alpha-ville has been busy since 2009 organising events, commissioning new works and curating programmes for arts and cultural organisations, festivals, promoters, events and agencies.
During the show we will be talking about what it takes to be a digital curator and producer today, and we will also discuss EXCHANGE, Alpha-ville's upcoming conference which will bring together some of the most talented digital artists and designers but also the community of Londoners working at the crossroads of art, technology, design and digital culture. That's going to be on January 17th and last time i checked there were still a few places available.
The radio show will be aired this Wednesday 8 January at 16:00, London time. Early risers can catch the repeat next Tuesday at 6.30 am. If you don't live in London, you can listen to the online stream or wait till we upload the episodes on soundcloud one day.
Photo on the homepage: 24 Sep – Hearn Street Emptyset 077.