The new episode of #A.I.L – artists in laboratories, the weekly radio programme about art and science i present on ResonanceFM, London's favourite radio art station, is aired this Wednesday afternoon at 4pm.
The guest of this episode is Usman Haque, one of the founders of Umbrellium. Usman is an architect who creates responsive environments, interactive installations, digital interface devices as well as many mass-participation initiatives. His skills include the design and engineering of both physical spaces and the software and systems that bring them to life. He is also the Founder of the sensor platform Pachube, now known as Xively.com.
Usman Haque happens to be one of the most thought-provoking people i know in London and today we're going to talk about the smart city vs the messy city.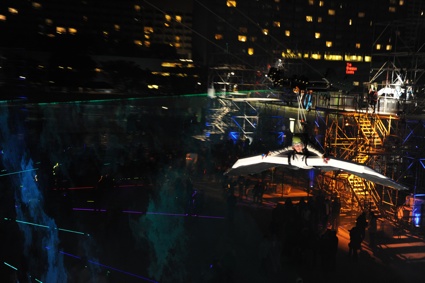 Usman Haque & Natalie Jeremijenko, Flightpath Toronto, 2011. Photo: City of Toronto
The radio show will be aired this Wednesday 13 November at 16:00, London time. Early risers can catch the repeat next Tuesday at 6.30 am. If you don't live in London, you can listen to the online stream or wait till we upload the episodes on soundcloud.