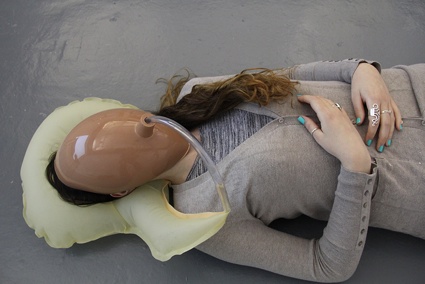 A sleeping mask designed to capture CO2 whilst inhabitants sleep to moderate the life support system of the Isoculture
The new episode of #A.I.L – artists in laboratories, the weekly radio programme about art and science i present on ResonanceFM, London's favourite radio art station, is aired this Wednesday afternoon at 4pm.
My guests will be designers and artists Michiko Nitta & Michael Burton.
Michael works on the edge of speculative design, arts, and as a researcher. His works investigate the choices we face in our evolution as a species and in redesigning life itself. Meanwhile, Michiko's interests are in the relationship between nature and humans, often taking extreme vantage on how humans can change their perception to live symbiotically with nature.
You might have heard of Michiko and Michael's work already. Last year, they were at the Victoria and Albert Museum with a performance that showed how opera singers with powerful lung capacity might produce food in a future world where algae have become the world's dominant food source. And in Spring they were at the Watermans cultural center to explore the possibility of a city that would be isolated from the wider environment and where food, energy, and even medicine, are derived from human origin and man-made biological systems. Obviously, you're in for a weird ride with two charming people…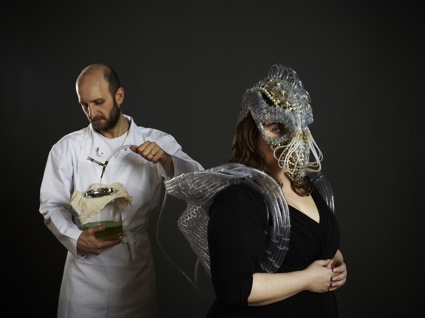 Mezzo-soprano opera singer Louise Ashcroft preparing for The Algae Opera. Photo by Matt Mcquillan
The radio show will be aired this Wednesday 6 November at 16:00, London time. Early risers can catch the repeat next Tuesday at 6.30 am. If you don't live in London, you can listen to the online stream or wait till we upload the episodes on soundcloud.
Previously: Future evolutions of our food systems – Interview with After Agri.