The new episode of #A.I.L – artists in laboratories, the weekly radio programme about art and science i present on ResonanceFM, London's favourite radio art station, is aired this Wednesday afternoon at 4pm.
My guest tomorrow will be writer, artist, publisher and technologist James Bridle. I'm sure many of you have heard of him. Either because he coined and formulated the concept of New Aesthetic which quickly gave rise to worldwide debate and creative work. Or because you're interested in drone warfare. A few months ago, Bridle launched Dronestagram on Instagram, Twitter and Tumblr. The project uses Google Earth images and data collected by the Bureau of Investigative Journalism to document systematically the locations of deadly U.S. drone strikes. Bridle has also been traveling from Istanbul to Brighton to Washington DC to paint crime scene-style outlines of drones and give passersby a more physical representation of the size and power of the unmanned aerial vehicles.
One of the artist's latest projects, A Quiet Disposition is an intelligence-gathering system that scans the internet for news articles and other sources of information about drones, and drone-related technologies, including the Disposition Matrix. When it finds relevant texts, it analyses them, cataloguing names, objects, terminologies, and the relationships between them. From these relationships it draws its own conclusions, connecting pairs of names linked through the information it has gathered.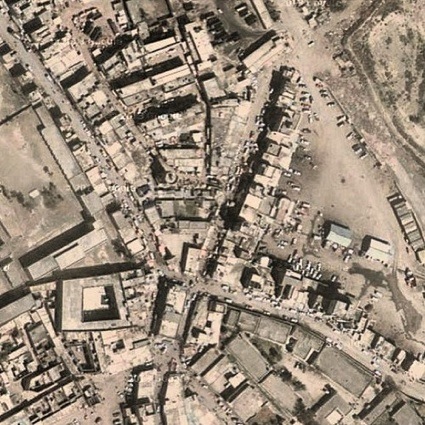 Dronestagram July 3rd 2013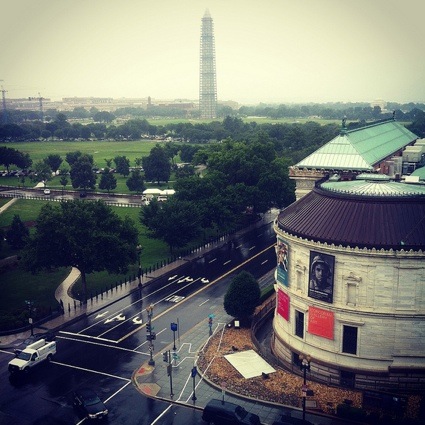 Drone Shadow, 2013. Outside Washington D.C.'s Corcoran Gallery of Art and College of Art + Design
The show will be aired this Wednesday 10th of July at 16:00, London time. Early risers can catch the repeat next Tuesday at 6.30 am (I know…) If you don't live in London, you can listen to the online stream or wait till we upload the episodes on soundcloud.
Previously: Under the Shadow of the Drone.