The new episode of #A.I.L – artists in laboratories, the weekly radio programme about art and science i present on ResonanceFM, is aired this afternoon at 4pm (London time.)
Today i'm talking with artists, curators, writers Ruth Catlow and Marc Garrett who, 16 years ago, founded Furtherfield, an organization with a very strong online and offline presence. Furtherfield.org is an online community where artists, theorists and activists meet and talk about art, technology and society but Furtherfield is also an art organization with a gallery located in Finsbury Park that invites the public to discover and reflect upon digital/networked media art and social changes.
The conversation has been fascinating: Ruth and Marc talked about the early days of the internet in London, about the legendary Backspace (now a Starbucks as Alison and Jon from Thomson and Craighead informed me yesterday), about how they've been curating exhibitions and events with the help and feedback of their large community for years, etc.
Finally, they discussed unmanned aerial vehicles. Their new show, Movable Borders: Here Come the Drones!, opens at the Furtherfield Gallery in Finsbury Park this Saturday afternoon. I'll be there and hope to meet some of you.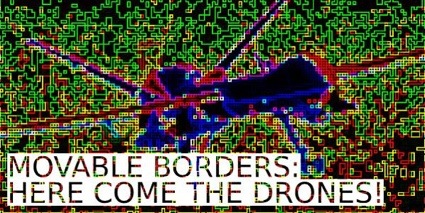 The show will be aired today Wednesday 8th May at 16:00. The repeat is next Tuesday at 6.30 am (yes, a.m!) If you don't live in London, you can catch the online stream or wait till we upload the episodes on soundcloud.
Movable Borders: Here Come the Drones! will open from Saturday 11 until Sunday 26 May 2013. The opening is on Saturday 11 May 2013, 2-5pm.
The following Saturday, Dave Young is organizing the workshop MOVABLE BORDERS: THE REPOSITION MATRIX.
Finally, Furtherfield has a fund raising campaign going on. I can't think of a better cultural cause to support right now.
Image on the homepage: Spinning Desktop by Antonio Roberts. I nicked it from another of Furtherfield's upcoming show: Glitch Moment/ums.