The new episode of #A.I.L – artists in laboratories, the weekly radio programme about art and science i present on ResonanceFM, is aired tonight.
My guest at Resonance today is Austin Houldsworth, a young designer with whom we are going to discuss money, its physical disappearance and the financial crimes that could be committed within a completely electronic marketplace.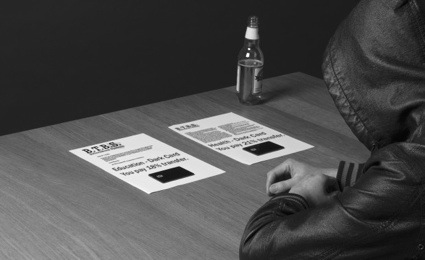 Austin Houldsworth, Crime Pays
As you might remember from a post i wrote a couple of weeks ago about his project Crime Pays, Austin's research explores the near future possibility of living in an entirely cashless society. Today, card transactions are on the rise and it is also forecast that at some point over the next few years, mobiles will have overtaken cards to pay for goods and services. But it's not just banks who want you to go cashless, governments also want to see the end of coins and bills because a cashless society is easier to trace and control and they see cash as the currency of the black economy. Now the value of the black economy varies from country to country. In Italy, for example, the black economy is thought to be 27pc of GDP and to fight its expansion, the previous government has decided that any transaction of over 1000 euros has to be handled by card exclusively. Similarly, Spain has recently banned the use of cash in transactions of 2,500 euros or more. And the movement is spreading… Although the black market might be less widespread in the UK, the government is still spending 20 to 40 billion per year combating organised crime.
So we're going to talk more in depth about Crime Pays but also spend some time on a competition Austin is curating at the moment. The Future of Money Design Award has a pretty appetizing theme this year: artists and designers were invited to design a crime for the age of electronic transactions.
The show will be aired today Thursday 14st March at 17:30. The repeat is next Tuesday at 6.30 am (yes, a.m!) If you don't live in London, you can catch the online stream or wait till we upload the episodes on soundcloud.