The new episode of #A.I.L – artists in laboratories, the weekly radio programme about art and science i present on ResonanceFM, is aired tonight.
My guests at Resonance today are creative technologists Asa Calow and Rachael Turner, the founders of the MadLab. Madlab is the short name for Manchester Digital Laboratory, a remarkably active community space for science, technology and art located in Manchester Northern Quarters. Luckily for me, Rachael and Asa are currently in London, where they are heading a series of workshops and events as part of their residency at The Arts Catalyst.
The events explore in a hands-on way the world of DIY Biology. Participants learn how to build their own labs using LEGO and affordable materials, create microbe-powered LED lights using local mud, go on a hunt for water bears and participate to a feast of cellular gastronomy. Yesterday night, i participated to the workshop on genetic modification for beginners. It was eye-opening and fun (although scientific protocols tend to be a bit repetitive.) Many of the events are already sold out but some have bigger capacity and there's still a few spots to grab. So have a look at the website of artscatalyst.org for more details.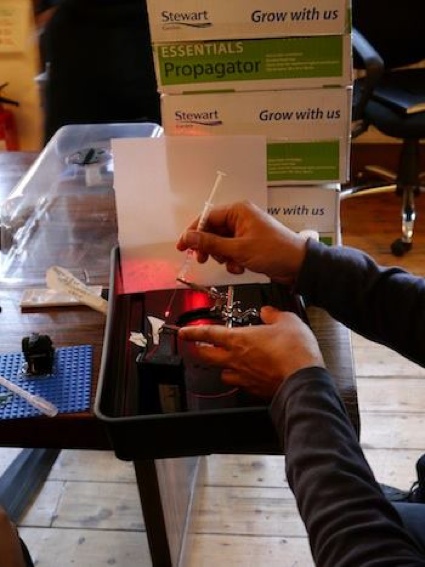 Shoestring Biotech workshop. Photo: The Arts Catalyst

The show will be aired today Thursday 21st February at 17:30. The repeat is next Tuesday at 6.30 am (yes, a.m!) If you don't live in London, you can catch the online stream or wait till we upload the episodes on soundcloud.