New year, new episode of #A.I.L – artists in laboratories, the weekly radio programme about art and science i present on ResonanceFM.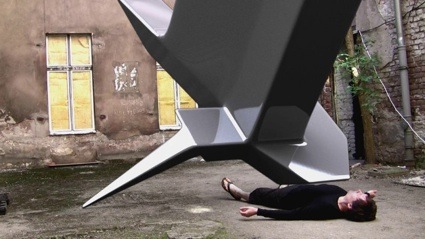 Julian Oliver, Six Composite Acts (Digital, sculptural interventions / Performance), 2010
The guest of this episode is artist and critical engineer Julian Oliver whose award-winning software and hardware works include a wall plug that manipulates the news appearing on other people's screens, a pair of augmented-reality binoculars that replace advertisements in public spaces with artworks in real-time, but also a Transparency Grenade able to capture network traffic and audio at the site of secret corporate or governmental meetings and to anonymously stream the data to a dedicated server where it is mined for information. Julian Oliver's projects might be provocative and entertaining but their ultimate aim is to make us question the technologies we use every day: who really owns them? Who made them and to what purpose? How much do they shape our behavior? Do these technologies service us as much as we service them?
During the show, however, we're not going to talk about Julian's exciting projects. Instead, i wanted to focus on the Critical Engineering Manifesto that Julian wrote a year ago together with Gordan Savičić and Danja Vasiliev. Expect explanations about why Engineering is the most transformative language of our time, questions about how to adopt the critical engineering ethos if you have next to zero technical skills, and details about Julian Oliver's upcoming projects.
The show will be aired today Thursday 17th December at 19:30. The repeat is next Tuesday at the ungodly 6.30 am. If you don't live in London, you can catch the online stream or wait till we upload the episodes on soundcloud.