The first episode of #A.I.L – artists in laboratories, the radio show about art & science/technology i'm recording for Resonance FM is broadcast today Monday 21 May at 16.30 (GMT.) There will be a repeat on Thursday at 22.30. You can catch it online if you don't live in London. And of course there will be podcasts.
This week i'm talking with the lovely and lively Anna Dumitriu, visual artist and respected founder and director of The Institute of Unnecessary Research. She explains how she finds herself locked inside university laboratories to collaborate with scientists on major projects. We're talking about bacteria and how the problem is not that they exist but that they keep talking to each other, we're talking panda blood transfusion ahead of the Paris edition of Trust Me, I'm an Artist and there's even a mention of the robot that steals your face.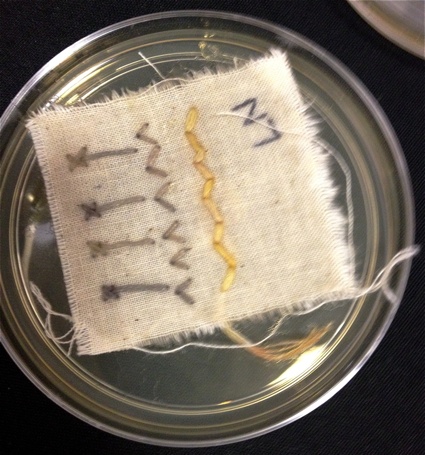 Anna has a show opening this Wednesday at The Barn Gallery in Oxford. Normal Flora: Bioart Responses to Modernising Medical Microbiology blurs the boundaries between art, textile crafts, and science. It uses a range of digital, biological and traditional media including live bacteria, projections and textiles. I'll be going on Wednesday, expect blurry images on my flickr stream.