Electro, the Mansfield Westinghouse robot who was a sensation at the 1939 World's Fair in New York City, is to be housed in large display built around him and open to the public from Sept. 7 to Nov. 20 in Mansfield Memorial Museum .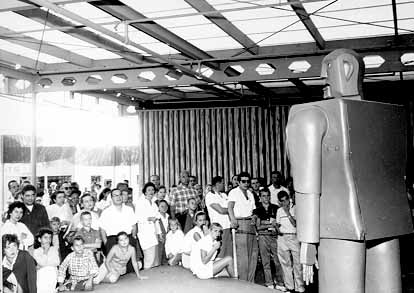 The mechanical man is 7 feet tall and weighs about 300 pounds, he could walk and talk, raise and lower his arms, turn his head and move his mouth as he spoke. He mastered a vocabulary of over 700 words and a repertoire of one-liners.
Stuck in storage during World War II, he returned in 1950 to tour North America. He even appeared in a few movies and then returned to Mansfield where he went into storage again.
From Mobile Robotics Mansfield News Journal.