A new Chinese game, "Learning from Comrade Lei Feng," encourages players to live a thrifty life and offer help when needed.
Lei Feng, who was just 22 when he died in an accident in 1962, inspired the whole nation then after Mao called on people to "Learn from Comrade Lei Feng." He was immortalized by Mao Zedong as a selfless and model citizen.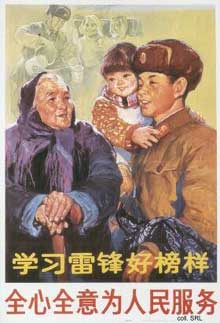 In the game, the players play the role of a young pioneer. Pedestrians may say dirty words, trample upon grass, spit or litter on the road or break traffic rules and the players' tasks are to stop these bad habits or deeds while helping old men cross the street.
If players accomplish their tasks, they are rewarded with bonus points, which, if sufficiently high, earn them a red star as an extra prize, said 12-year-old Jiao Jian, "When the four points, fame and loyalty rise to a set standard, we have a chance to see Chairman Mao at magnificent Tian'anmen Square."
Created by China's Internet game giant, Shanda Entertainment, "Learning from Comrade Lei Feng" is China's first educational on-line game.
Via New Scientist technology blog Xinhua.
Image from Lei Feng on Stefan Landsberger's Chinese Propaganda Poster Pages.