Arcangel (Constantini from DF, MX) vs. subculture (Antonio Mendoza from LA, US)!
Next week, two web artists will face-off in the wrestling ring to hack a web page live. The resulting changes will be seen by the public on a screen and by web-surfers on the net.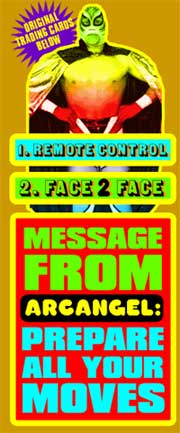 The artists will duel – using images, sounds, flash, HTML and javascript – for two hours assembling and disassembling the work and coding of their opponent. During each turn, the respective player will also play sound or music which will be heard live through at the venue and on the net in real-time. This music can be then remixed by their opponent.
The match will be held physically in a wrestling ring surrounded by three projections that will display the hacked page and the desktops of the two competitors. A referee will comment live as the battle develops. On the web you will be able to see the state of the page being hacked, listen to the music or sounds produced by both artists, listen and see the referee and the combatants, and vote for the competitors.
If you register which net champion you wish to support before April 1st, you will receive on the night a support item from your champion.
The winner will be decided through a combination of public voting and a committee of jurors.
A project by Antonio Mendoza, Arcangel Constantini and Lele Luchetti (referee), part of the NODE.London events. 1st-2nd April "SUM(1,4,6)" @ Area10.
Interview with Constantini about the Wrestling Match.
Via teknemedia.