Selectparks has a preview trailer of the upcoming political documentary game Street Survivor which tracks a homeless teenage girl in Melbourne.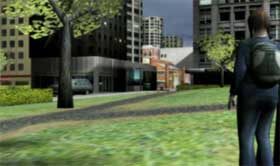 Sonya spirals into a cycle of addiction, hunger, violence and crime as she flees from her past and searches for another kind of future. Designed by Kirsty Baird, the game is targeted at young people who are homeless or at risk of homelessness and aims at giving thenm a better understanding of life on the streets and types of support available.
A pre-release demo will be available at the DIGRA exhibition.
Video.